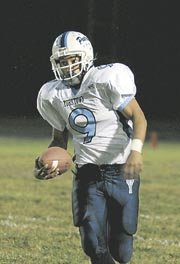 <b>Better Sports Club Banquet</b>
The Better Sports Club of Arlington held its annual end-of-the-year awards banquet last week and numerous local sports contributors were honored in conjunction with the event. The highest award of the night, the Sportsman of the Year, went to longtime Arlington Soccer Association (ASA) Executive Director Mac McLaughlin. McLaughlin was hired as executive director of ASA in 1973.
In addition, Marymount University athletic director and women's basketball coach Bill Finney was inducted into the Arlington Sports Hall of Fame. USA Today columnist Christine Brennan was a guest speaker while local sportscaster Ken Mease served as master of ceremonies.
In the local high school ranks, Yorktown's Kyle Toulouse was named male athlete of the year, while Wakefield's Veronica Paz was recognized as the female athlete of the year. Yorktown girls' lacrosse coach Robin Grunberger was named coach of the year.
The following student-athletes won specific high school awards: Colin Milon, baseball (O'Connell); LaNia Charity, girls' basketball (Yorktown); Simon Kilday, boys' basketball (Yorktown); Anna Butt, cheerleading (Washington-Lee); Megan Fitzpatrick, girls' cross country (O'Connell); Luke Malley, boys' cross country (W-L); Carl Katz, football (O'Connell); Chris Ceconi, golf (O'Connell); Elizabeth Dean, girls' lacrosse (Yorktown); Keegan Weaver, boys' lacrosse (O'Connell); Elena Ponds, girls' crew (H-B Woodlawn); Ellis Carpenter, boys' crew (Yorktown); Danielle Corey, girls' soccer (O'Connell); Rodrick Likonko, boys' soccer (Wakefield); Lauren Martir, softball (Wakefield); Maren Taylor, girls' swim/dive (Yorktown); Michael Flach, boys' swim/dive (O'Connell); Lydia Getachew, girls' tennis (Yorktown); Kimsue Grant, girls' track (W-L); Sarah Patricia Bayliff, girls' volleyball (W-L); Johnathan Carpenter, wrestling (O'Connell).
The following received youth athlete awards: Bailey Kowalski, softball (Swanson Middle School): Nick Yore, baseball (Williamsburg Middle School) Kiko Murphy-Apgar, boys' lacrosse (Swanson); Rachel Aldefer, girls' lacrosse (Rivendell Middle School).
The Better Sports Club is a private, non-profit Virginia corporation, founded in 1957 to support community youth sports activities.
<b>Yorktown Coach Opening</b>
It was announced last week that after two successful seasons, Yorktown girls' basketball coach Kim Cordell will be moving to Uganda with her husband. The school is now accepting applications for the vacant position of head varsity girls' basketball coach. Those interested should fax resumes to Mike Krulfeld at 703-228-5409 or email at mkrulfel@arlington.k12.va.us