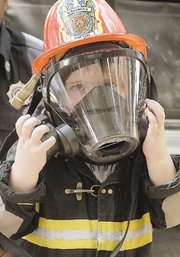 The Friendship Veterans Fire Engine Association will hold its annual Friendship Firehouse Festival on Saturday, Aug. 1, from 9 a.m. to 2 p.m. This popular family event will take place in the 100 block of South Alfred Street between Prince and King streets, which will be closed off to traffic for the festival. Admission is free.
Held at the historic Friendship Firehouse, the festival celebrates the special role firefighters have played throughout history, especially those of Friendship. This year, festival guests will see the recently restored cupola, repainted to its original color after preservation experts analyzed and matched paint chips.
The event will feature a collection of antique fire equipment and, courtesy of the Alexandria Fire, Rescue and EMS Department, a display of modern fire apparatus. The Alexandria Red Cross and the Community Emergency Response Team will also be on hand.
Other attractions include craft booths, food vendors and free birthday cake. Children will receive free fire helmets and balloons. In addition to the day's outdoor events, festival participants will be able to experience the history of the Fire Company through a tour of the Friendship Firehouse Museum.
The building was originally built as a firehouse in 1855, remodeled in 1871 and restored again in 1992 before undergoing roof and cupola repairs this year. The Engine Room on the first floor showcases historic firefighting equipment, including hand-drawn fire engines, leather water buckets, axes, and sections of early rubber hose.
The second floor houses exhibits on the Friendship Fire Company, also known as "George Washington's Fire Company," which was Alexandria's first fire company and has been a source of civic pride since its founding in 1774.
Now a philanthropic organization focusing on fire and life safety, the Friendship Veterans Fire Engine Association remains active in community events, including this year's Festival, which marks the 235th anniversary of the Company.