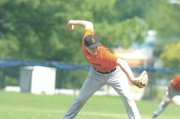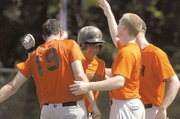 There was no one more nervous in the Arlington Post 139 dugout than assistant coach Aaron Tarr Sunday afternoon during Game 2 of the American Legion District 17 championship series at Robinson High School after pitcher Kyle Toulouse had loaded the bases with two outs in the top of the ninth inning, clinging to a now-precarious 6-3 lead over Post 176 of Springfield.
Tarr, whose father coached this team last summer, represented Post 139 during his playing days more than a decade ago and had watched team after team from Arlington over the years fall just shy of taking home a title.
"Coach Tarr has been waiting a long time to win this game," said starting pitcher Danny Johnsen after Toulouse forced a game-ending fly ball to secure the 6-3 win. Once the final out was registered, Tarr and the rest of Post 139 rushed the mound in celebration.
The championship victory was a long time in the making — four days and 27 years to be exact. The last time Post 139 took home the District 17 title, and therefore advanced to the state tournament in Glen Allen, Va., was in 1982.
And to get that elusive win this year, Arlington would have to earn it, with a championship series that spanned two games, two venues, and four days due to a stellar pitching performance and some nasty summer thunderstorms.
<b>ARLINGTON</b> entered the double elimination American Legion playoffs as a favorite having finished in first place during the regular season. They played the part in advancing to the title game, winning two games, including a 10-0 victory in the first round over this same Springfield squad behind a three-hit shutout from Johnsen.
But last Friday night at Oakton High School, in the rematch, it was Springfield that had an ace up its sleeve. Starter Brennan Miller of South County baffled the Post 139 lineup with an array of breaking balls, throwing a complete game while his Springfield teammates used a six-run second inning to cruise to a 12-6 win. The game was supposed to take place Thursday night, but evening thunderstorms made the field unplayable. The bad weather all weekend wreaked havoc on schedules, as Post 139 lost outfielder/pitcher Jordan LaBella for Game 2 to a family vacation, while manager Vondell Johnson had to skip a friend's wedding.
But since it was Post 139's first loss in the postseason tournament, a play back game to decide the championship was in order. Following another postponement thanks to more rain Saturday night, Johnson, the coach, tabbed Johnsen, the pitcher, to lead Arlington to a historic victory.
A 2008 Yorktown graduate and a walk on for the Longwood University baseball team, Johnsen switched from an overhand throwing motion to a sidearmed style during his freshman season playing college baseball.
Johnsen says the new motion gives him a much better breaking ball and more movement in general on all of his pitches, tailing away from left handed batters and in on the hands of right handed batters.
It worked wonders Sunday afternoon, as Johnson produced a performance that could only be described as effectively wild. Over seven innings, the right hander gave up three earned runs, three walks, hit four batters, and struck out two.
"I spent most of the year just trying to get used to it, but now it's pretty comfortable," said Johnson, who made six appearances out of the bullpen for Longwood this past spring. "It's just something that's working for me now and we'll see how it goes in the future."
<b>PERHAPS THE BIGGEST</b> moment of Sunday's deciding game involved the other starting pitcher. In the fifth inning, with Arlington up 2-1 courtesy of a solo homerun from Washington-Lee's Jeremy Seipp the previous inning, Post 176 starter Shannon Smith was hit in the foot by a line drive off the bat of Tom Edwards (W-L).
Smith would have to leave the game and Arlington would tack on three more runs as Springfield reliever Mike Olerta struggled to get his bearings upon entering the contest. Jack Bergsman (Yorktown), Mike Edwards (Wakefield), and Matt Demsky (Yorktown) each had RBIs during the rally.
"That hurt us because we had to quickly go to someone, which we weren't prepared to do and that took us out of stride," said Post 176 manager Al Vaxmonsky.
Danny Richetti then stole home in the seventh inning for Post 139's sixth and final run on a double steal initiated by Seipp. The championship victory left Post 139 with a 20-7 record this season. They took on a team from the Richmond area Tuesday, after the Connection's deadline, in first round state tournament action.
"As coaches, we all wanted it, the players wanted it, and the Post wanted it," said Vondell Johnson, a Bishop Ireton assistant baseball coach in his first season managing Post 139. "I'm so proud of these guys, they just battled. We worked so hard this year and they deserve it."