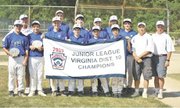 To restore what was once a vibrant Fairfax Little League Juniors program, Larry Capitano knew that he'd need the right group of baseball players. It would be even more helpful if he'd have them around for a few years to generate and maintain interest in the program, too.
"We're trying to re-vamp the whole program," said Capitano, who managed the Fairfax American Juniors All-Star team this summer. "The Juniors program used to have 12-15 teams, and now we're down to seven. We had six last year."
Capitano and Co. took a major step toward elevating the Juniors program this summer, capturing the District 10 title and advancing to the Virginia state tournament in Middlesex. Although the squad went 0-3 in pool play, the entire experience was something to remember.
"We tried our hardest," Capitano said. "Man, there are some good teams down there."
Little League Juniors (13-14 year olds) and Seniors (15-16) programs are extensions of the Little League Majors, which concluded its state tournament at the Lincoln Lewis Vanoy Fields in Fairfax on Wednesday evening.
In constant competition with the travel baseball experience, Fairfax has steadily seen its players depart to play for other leagues. However, by winning its district, Capitano hopes that his team went a long way toward restoring some legitimacy within the Juniors program.
Those good teams to which Capitano alluded to were Tuckahoe, Alexandria and Warwick, which outscored Fairfax by an aggregate 30-8. In the first game, Fairfax held a 1-0 lead before Tuckahoe rallied to win, 5-1. It was at that point, Capitano said, that his team realized it belonged.
The Juniors state tournament winner will represent Virginia at the Little League Juniors Southeast Region tournament in Cartersville, Ga. on Aug. 8-12. The regional winners will then play for the right to represent the United States in the Little League Juniors World Series, which will occur in mid-August in Taylor, Mich. and will be televised by ESPN.
To win its district tournament, Fairfax American started with a 5-3 win over Lower Loudoun. Next up, Fairfax American routed Coles, 12-2. In the championship game against Gainesville, Fairfax American scored yet another win, 7-2. With the tournament title in tow, much optimism exists for next year, with all but four players set to return.
"We were just too young," Capitano said. "But the boys came down [to Middlesex] and had a great time. They tried their hardest, and Fairfax hadn't been to the state tournament in quite a few years. Hopefully, this will help to get more people back into it."