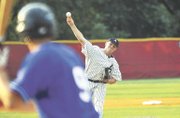 As the sun set on Frank E. Mann Field and the second season of Alexandria Aces baseball Monday night, the director of the team, Frank Fannon, turned to say something to Aces President Pat Malone as the two glanced throughout the crowd.
Children were running around the sides of the bleachers, while families mingled, enjoying a summer night of competitive baseball. That the Aces ended up losing, 9-6, to the Silver Spring-Tacoma Thunderbolts, costing themselves a spot in the 2009 Cal Ripken Senior Collegiate Baseball League (CRSBL) playoffs, was a moot point.
"You've got to be proud of what you started," recalled Malone of what Fannon said. "But I didn't need him to remind me of that. Alexandria is a place where collegiate summer baseball is actively growing and growing in such a way that it shocked me how many people showed up this year."
Though final attendance numbers have yet to be tallied, the Aces drew more than 4,000 fans to the baseball diamond next to Cora Kelly Recreation Center, eclipsing last season's mark of around 3,000. Once again, the Aces are likely to rank second in attendance within the CRSBL.
The Aces are also on more solid ground financially than a year ago, according to Malone, in contrast to other non-profits that have felt the brunt of the recession. Malone declined to reveal specific figures since final financial numbers have yet to be tabulated.
"With any new business, you have struggles at the beginning and we learned a lot from that and made improvements," said Fannon.
<b>WITH ITS SECOND</b> season now in the rearview mirror Malone, Fannon, and the rest of the Aces organization have already begun to look towards 2010. The outfield at Mann Field will be dug up in the coming weeks, with completely new sod and a drainage system scheduled to be installed that will make the playing surface "one of the best in the Mid Atlantic" according to Malone.
Already the Aces have tentatively planned an October banquet and silent auction, as well as a spring golf tournament that will help raise money for more bleachers, an improved concession stand, and, maybe in the not so distant future, even some locker rooms.
The Aces have gone from a dream of Malone's — he created the team, its uniforms, and its logo — to a bona fide entertainment establishment within Alexandria. Thanks in large part to the strong support at home, the Aces finished with a 12-9 record at Mann Field, while stumbling to a 5-14 mark on the road.
"We certainly feel that we're in this for the long term," said Malone. "We think the Alexandria Aces will be part of the community for many years. We want to grow and have the community grow with us."
<b>THE NEXT STEP</b>, though, is to improve the product on the field a bit. This year's team, once again managed by Eric Williams, finished with a 17-25 record, two and a half games out of the final playoff spot. Third baseman Drew Walker of Armstrong Atlantic State in Georgia led the team offensively with a .283 batting average. Outfielder Tommy Grandieri of Penn had a team-high four homeruns.
On the mound, the Aces had an overall ERA of 3.62, led by starter Jonathon Abramson of San Francisco University (1.59 ERA). Justin Mazur of Wayne State finished with a 4-1 record.
But neither Malone nor Fannon wants to miss the playoffs next season. Fannon said out-of-town players have enjoyed living in Alexandria so much that the team plans to pursue some higher quality college prospects from the ACC and SEC for 2010.
Malone has dreams of an Aces team that also includes the best players coming out of Alexandria. Already, Whit Mayberry of St. Stephen's/St. Agnes has signed on to play for University of Virginia this fall, making him a prime candidate for the Aces. There's also Matt Kilby, a senior at T.C. Williams next year, who is generating legitimate Division-I buzz, and college-level prospects like Frankie Zare, Dan Nicoll, and John Robertson of Bishop Ireton.
If anything, attracting local players to Mann Field will only further strengthen the young bond the Aces and Alexandria have begun to develop.
"I'd love for [players from Alexandria] to come back and play for the Aces," said Malone. "That's what we're doing this for. It's a form of inspiration because kids in the city get to see college players. We've still got a lot of stitching to do, but I think we're growing as part of the fabric of the city."