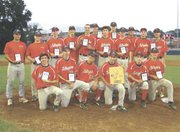 <b>Arlington Wins 16U Title</b>
The Arlington 16-and-under all-stars won the Virginia Babe Ruth state championship this past weekend, defeating a team representing Greater Fairfax, 5-1, in the championship game. A couple of third inning homeruns broke open the title game for Arlington. Charlie Vitale had a solo homerun, and teammate Shaun Wood followed with two-run shot of his own.
Arlington defeated Fairfax, 10-7, in the first game of tournament play, scoring three runs in the top of the seventh for a come-from-behind victory. Against a team representing Greater Loudoun in the semifinals, Arlington scored four runs in the top of the seventh and won the game, 9-7, thanks to a suicide squeeze bunt by Austin Evans and a two RBI single from Chris Kyser.
Evans was named tournament MVP after finishing with a 3.15 ERA, seven assists in the field when he played shortstop, and a .500 batting average.
The state championship was a culmination of two summer seasons in which this team of Arlington all stars compiled an overall record of 30-11-2. They also won the 2008 Virginia Babe Ruth state championship.
"After never having won a tournament before, this team has really come together and created a strong bond with memories they will share for years to come," said team manager Mike Krulfeld. "Our execution in the field and at the plate was indicative of the time these guys have put in all season."
<b>Swim Results</b>
The NVSL season concluded for most swimmers this past weekend with the annual end-of-season divisional meets. Here's a recap of contributed material detailing some of the times achieved by local swimmers.
With the team competition completed and a Triple Crown in hand, the Overlee Flying Fish moved on to the Individual Divisional Meet held at the Hamlet Swim Club on Saturday, July 25. The 100 Meter IM and 8&under 25 Meter Butterfly events are added to the usual dual meet individual events. All six Division 1 team were allowed to enter two swimmers in each of 48 events. At the Divisional meet, Overlee swimmers combined to win 14 of the 48 events while picking up 39 top three finishes, both division-leading totals. Overlee had three double winners: Katie Bennett (Girls 15-18 50 Back and 100 IM), Michaela Morrison (9-10 Girls 50 Back and 50 Breast), and Kayla Rusby-Wood (11-12 Girls 50 Back and 50 Fly).
The Divisional results for all 17 divisions are combined and the top 18 swimmers League-wide in each event qualify to swim at the All Star Meet to be held at Broyhill Crest on Aug. 1. In total, 19 Overlee swimmers qualified to swim a total 29 events at the All Star meet. In addition to the event winners listed above, Timothy Aldinger, Lauren Allard, Ryan Baker, Megan Day, John Thomas Dolan, Kathleen Kinsella, Izzy Pasternak, and Rachel Robertson qualified for All Stars.
In the Division 8 individual championships, Dominion Hills finished the morning with three first-place winners. Kara Fox won the 9-10 freestyle, Noah Gaby won both the 11-12 freestyle and butterfly races, and Kevin Morris-Larkin took home first-place honors in the 8-and-under butterfly.