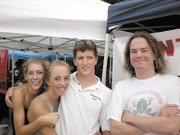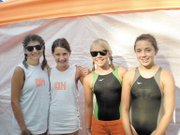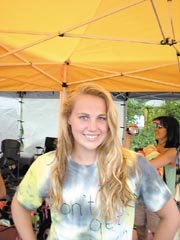 Swimmers from across the region set eight records at the Northern Virginia Swimming League (NVSL) All-Star Relay Carnival, with Overlee winning the event ahead of Tuckahoe and Chesterbrook.
The annual event, which took place at Springboard Recreation Club in Springfield on Thursday, July 15, featured 22 different relays. Parents, coaches and teammates crowded around two sides of the six-lane pool to cheer on 64 different teams.
"It's exciting, as always," said Tracy Fortman, a co-team representative for Orange Hunt. "It's always a fun meet."
Swimmers arrived at the pool in cars decorated with streamers and soap lettering. Nearby Lee High School served as an overflow parking lot, and individual tents stood in an adjoining field to accommodate the teams. The focus of the event, however, was the pool.
"We're very proud to [host] it," said volunteer coordinator Rosemary Kley.
The event required plenty of assistance. Twenty judges, six electronic timers, 30 marshals and seven clerks comprised only a portion of those involved in managing the event. Other workers helped out with awards, the program and the check-in area.
Dennis Zimmerman, the current president of Springboard, did not think that his pool would ever be picked for the All-Star Relays.
"We're very happy and pleased" to accommodate the relays, Zimmerman said. "This is really fun for us."
Springboard used to be a "second-tier pool," Zimmerman said, but he noted that the pool has changed significantly after a series of renovations to add a clubhouse roof, pavilion and a new diving board.
The Division 4 Fairfax swim team set a record in the mixed-age 200-meter freestyle relay, with Rachel Ward, Anna Ober, Rachel Rogers and Jean DeOrnellas completing the event in 1 minute, 57.98 seconds.
"I was really excited," Rogers said. "I pretty much jumped up and down and screamed."
Rogers noted that "we were seeded first by a lot," but was not sure that they would break the 17-year-old record, which they did. She also said that the All-Star Relays "are my favorite memories of summer."
Tuckahoe set a record of its own in the 15-18 girls' 200 medley relay, as Eva Green, Karen Schirm, Megan Howard and Margo Harlow broke the standing record by over two seconds with their time of 2:01.46.
"We just got in and raced, and the magic happened," Harlow said. "It was so much fun."
Harlow has been swimming extensively during the summer. Her schedule has been "eat, sleep and swim," she said, but added "I love everything about it."
Lydia Packard, along with team members Michaela Morrison, Anna Polise and Emma Day, helped Overlee by winning the 9-10 girls' 100 freestyle relay.
"It feels good knowing that my friends and family are supporting me," Packard said.
Orange Hunt's 11-12 girls' 100 freestyle relay team of Madalyn Pemberton, Robyn Dryer, Brittany Creasy and Madelaine Sieracki took first place.
Winning, apparently, does not come easy. The team practices Monday through Friday, from 8-9:15 a.m. each day.
"It's summer, and you expect to sleep in," Creasy said, but added that "we'll be proud of it in the long run."
The races concluded with the 15-18 boys' 200 freestyle relay. Though Chesterbrook was seeded first for the event, Highlands Swim beat out the 17 other teams with a record-setting time of 1:37.92. Chuck Katis, Stephen Richards, Charlie Putnam and Brian Murphy comprised the winning group.
Two more notable events are on the NVSL calendar this season. Divisional meets are Saturday, July 25, while the Individual All-Stars meet is Saturday, Aug. 1. Broyhill Crest (Annandale) will host the individual showcase, which is scheduled to start at 9 a.m.