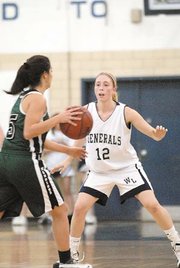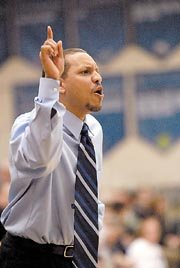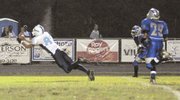 To get a sense of how important rivalries are within the structure of Arlington County high school sports, one only had to look at the water-drenched head of Yorktown football coach Bruce Hanson after his Patriots had defeated bitter rival Washington-Lee on a cold night on the first Friday of November 2008.
Hanson, who will begin his 25th year as head coach at the North Arlington high school this fall, is the dean of coaches within Arlington County and had not lost to the Generals since 1982. On this night, though, his Yorktown team faced its biggest challenge ever from W-L, trailing at halftime, 7-0.
A stirring second half saw Yorktown senior Kyle Toulouse gain 164 total yards of offense, score two touchdowns, and lead the Patriots to a come-from-behind 21-14 victory. The game, though, had little ramifications other than pride. Yorktown finished the season 6-5, while W-L had a 5-6 record. Both went on to lose first round playoff games a week later.
And yet, there stood a beaming Hanson, as happy as when he coached his first high school football win. Even after nearly a quarter century, defeating an Arlington rival never gets old.
"That was our championship," he said after his team drenched him with a Gatorade shower. "We're the Arlington County champs."
Sports in Arlington are defined by these rivalries. Though the three area high schools — Yorktown, Washington-Lee, and Wakefield — play sports and compete for championships with the 27 other schools that represent the Northern Region, no season in any sport is complete without having won the annual matchups pitting neighborly rivals against one another.
"We've been playing with all of them since middle school," said Wakefield basketball player Corey Levenberry of going up against Arlington schools. "We know the coaches, the players, we're like one big family."
What else made this "family" tick in 2008-09?
<b>Campbell Closes with a Split</b>
Washington-Lee High School right off of Washington Boulevard near Ballston has undergone a total reconstruction in the past few years. This past fall, the new artificial turf football field and track and academic building opened for student use.
But still remaining were parts of the old W-L building that houses the school's P.E. department and basketball gym while the athletic facilities — including an indoor pool — were completed. So Feb. 9 became a special night in the long history of Rudolph Campbell Gymnasium, as Wakefield and Washington-Lee took the basketball court for one final in-county doubleheader. W-L prevailed in the girls' game, 50-34, while the Wakefield boys' defeated the Generals, 81-60, to close the night.
"This was going to be one of the last memories we have in this gym and a loss was not what we wanted," W-L's Michele Deriuex said afterwards.
Wakefield boys' basketball head coach Tony Bentley, and his lead assistant, Horace Willis, both coached under W-L head coach Bobby Dobson prior to coming to Wakefield. In fact, Bentley, a W-L alum, was a star guard for Dobson back in the late 1980s.
"I always say I'm blue and gray by heart and green and black by paycheck," said Bentley, citing the two schools' colors.
<b>Making History</b>
It was a year of firsts for a couple of Arlington County public school sport programs. After years of domination by the crew program of Fairfax County's Thomas Jefferson High School, the Yorktown boys' varsity eight boat made history, by winning its first state title in 41 years. It was the first rowing state champion to come out of an Arlington school in 20 years.
Over at W-L, head football coach Josh Shapiro led the Generals to their first playoff appearance since 1975. Though they lost in the first round to Mount Vernon, it was a significant step forward for the program.
<b>ESPN Comes to O'Connell</b>
Under coach Joe Wootton, the O'Connell boys' basketball program has grown into one of the best in the state of Virginia and a perennial juggernaut in the highly competitive Washington Catholic Athletic Conference.
But Feb. 17, 2009 the Knights went national — national television that is. ESPN's Old Spice High School Showcase came to the Arlington private school for a boys' basketball matchup between O'Connell and rival DeMatha. A sold out crowd that literally had to wait in line a week in advance to get tickets watched the Stags defeat O'Connell in a thrilling 64-53 game.
"It's great for the game of basketball when you can get high school games on TV," said then-O'Connell junior Kendall Marshall, who is committed to play at North Carolina in 2010. "It gets us some nice exposure and it's fun. We got a lot of people to come out to support us and it was a great feeling out there."
<b>Yorktown Spring Dominance</b>
For a second year in a row, the spring sport teams at Yorktown left little question as to what school dominates the National District in the spring. The Patriots' teams won seven of the nine district tournament titles up for grabs. Most impressive amongst the bunch was the Yorktown girls' lacrosse team, which captured its fourth-straight district title. The Patriot baseball team also won a school-record 19 games.