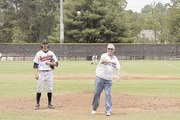 It may have been an exhibition game bearing his name, but 82-year-old Burt Crump wasn't sure what he was watching last Saturday afternoon at Waters Field.
Crump, the coach of Vienna's American Legion Post 180 team for 28 years, had come back to his old stomping grounds on July 11 for the fourth annual Burt Crump Classic, a casual affair pitting Post 180 against their college brethren from the Clark Griffith Baseball League's Vienna Senators.
Standing behind home plate, though, Crump saw the image of one of his former star players, current Senators manager Chris Burr, on the mound donning the mustard yellow pants of Post 180 for the first time in more than 20 years.
Crump was the manager of Post 180 during Burr's American Legion heyday, when Vienna took home a state title in 1987 and followed it up with a 34-5 record in the summer of 1988. The latter of those two seasons saw Burr hit an unheard of 21 homeruns over the course of 30 games played. To this day, he still holds every American Legion District 17 batting record except for most triples in a season.
<b>BUT WITH</b> several players out of town, the 39-year-old Burr was suiting up for a depleted Post 180 squad that featured players two decades his junior. The whole situation allowed Burr to have a little fun, going up against the players he currently manages all the while sporting a one-size-too-small uniform of the team that made him something of a folk legend around Vienna baseball circles during his high school days.
Earlier in the game Burr had come to the plate and watched his first-base coach and the Senators' starting pitcher for exhibition games, Zac Blakney, throw a curveball and changeup once the count was full. After one foul ball, Burr jogged to first base with a walk.
So when their roles were reversed, with Burr taking the mound and Blakney in the batter's box during the sixth inning, the manager had a simple message for his player.
"The difference between me and you is I'm going to throw you a 3-2 fastball," said Burr, following the Senators' 12-5 win, which included a two-run homerun in the sixth when Blakney sent Burr's 3-2 fastball — and bravado — over the left field fence. "I told him that right before the pitch and fortunately for him, he's got good enough hands that he got to it. I threw it over the plate and he hit it out of the ballpark."
It is the current players that bring Crump back to the ballpark on a regular basis, though. He still tries to catch every Post 180 home game and keeps tabs on the best players in the area. Saturday he brought along his 50-year-old son, Rick, a reminder of what got him involved with coaching youth baseball in Vienna close to 50 years ago.
"I go into grocery stores and I run into three or four people that come up to me and start talking about Legion, parents of people and kids who played for me," said Crump. "That's why I enjoy it, running into the kids later that have three or four kids themselves and are doing well."
The idea for Crump's own game came from Burr, after Crump gave up the reins of Post 180 to current manager Frank Werman. Four years ago, Werman's Post 180 squad was particularly talented, and Burr approached the manager about having his CGL team play an exhibition against them.
<b>THE INAUGURAL GAME</b> took place in 2006, with the Senators winning, 5-3. The Senators also won tight affairs in 2007 and 2008. Currently leading the CGL standings, the Senators exploded for 10 early runs Saturday and never looked back.
"The concept of these teams is a town team, so just the chance to get the two highest levels of baseball in town together to play a town game is a lot of fun," said Burr, whose current Vienna Senator roster includes four players that played in this game as a part of Post 180 in the past. "And it gives (the Legion) kids a chance to see what's out there."
Burr, who spent four seasons in the Texas Rangers organization, talked with some of the Legion players in the Post 180 dugout about what it takes to make the jump from high school to college level baseball. Blakney, a Birmingham, Ala. native, said he talked with Madison grad Cam Cassady since he's off to the University of Alabama this fall.
"We put up five runs and our whole lineup put good swings on a good pitcher, an older guy," said Casey Turner a 2008 Madison High School graduate and member of Post 180. He slugged a two-run homerun off Blakney in the fourth inning. "So now that we know we have the confidence to put runs up on just anybody, we'll take that with us throughout the rest of the season and into the playoffs."
The American Legion District 17 postseason begins this weekend, while the Vienna Senators have home games at Waters Field Friday, Saturday, and Sunday.