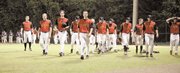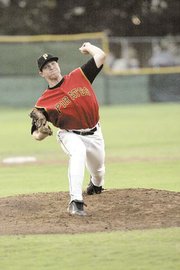 Following Matt Murakami's freshman year on the baseball team at Paul VI High School, his family made the decision to house a collegiate summer league player that year.
Don Brown was from Camarillo, Calif., played his college baseball at Pepperdine University near Malibu and was set to join the Vienna Senators in the Clark C. Griffith Collegiate Baseball League. An outfielder, Brown would stay with the Murakami family during the summer of 2005.
After nine years of operating out of Arlington, the Vienna Senators were born in 2004, and no matter the name or location, the franchise has consistently been one of the CGL's best, averaging 32.4 wins per summer before this current one with an overall record of 389-178.
"It looked like a joke," said Murakami, who just wrapped up his freshman season as a member of the University of Maryland baseball team, hitting .297 in 74 at-bats. "They'd just put a beating on everyone."
But in the four years following that 2005 season, a few things have happened to skew the CGL's hierarchy. Last summer, the Carney Pirates entered the wood bat league as a provisional team, meaning they would play only a half-season slate against CGL opponents before becoming a full-time entrant this summer.
Murakami, who had just graduated from Paul VI and was about to start his freshman year at Maryland, played on last year's squad, which went 10-10 against CGL opponents. This summer, with a full CGL slate, the Pirates have challenged Vienna atop the league standings.
In five head-to-head meetings this season, the Pirates hold a 3-2 advantage, although they've lost the past two contests, including Tuesday night's 7-1 decision that dropped Carney's record to 15-7 this summer.
The team has had success with a batch of local products, too. In addition to Murakami, the Pirates dress 12 players who graduated from Paul VI. Team also boasts a pair of Westfield High School products in twin brothers Matt and Mike Snyder. During a breakout freshman campaign at Ole Miss, Matt Snyder hit .298 with a team-high eight home runs and 31 RBIs for the Rebels, who nearly traveled to Omaha, Neb. for the College World Series.
From a baseball standpoint, Carney has been supported by its dynamic pitching staff. Before Monday's game against the Southern Maryland Cardinals, Carney pitchers had a combined ERA of 2.29 and allowed a league-low 42 earned runs.
<b>THE THING</b> that first-year manager Billy Emerson enjoys about this team is the same thing that sometimes makes his head spin. Because he has coached almost the entire group during his still-going, seven-year tenure at Paul VI, Emerson is familiar with his players and how they operate. They, in turn, are familiar with him.
"I still have to stay on them about everything," Emerson joked.
The coach also pointed out that staying home to play summer ball has its share of distractions, whether those include after-game plans or more money in players' pockets.
When traveling away from home to play summer baseball, working often rivals practice time and weight lifting, leaving players poor but strong.
"There are more distractions for the local guys playing in this league than there are for the out-of-town guys," Emerson said. "The out-of-town guys are here to play baseball.
"They don't know anybody else here, and they don't have anything else going on. So you have the stuff where guys are itching to get out of here [after a game] because they might have something going on."
<b>THE SNYDER</b> twins are prime examples. Although Ole Miss manager Mike Bianco wanted both to play in South Carolina's Coastal Plain League this summer, Matt and Mike Snyder lobbied to come home and play for Emerson. Both wanted to gain weight. Both wanted to focus on baseball.
Turns out, those home-cooked meals have worked out fairly well so far this summer.
"I'm crushing my mom's cooking right now," Matt Snyder said. "She makes some good food, and she's putting all kinds of weight on us. That's exactly what we needed. She's telling us that we have to eat and helping us out a lot with that."
The Snyders have helped the Pirates enjoy a few super-sized helping on the baseball diamond as well. In 20 games before Wednesday night's contest with the D.C. Grays, Mike Snyder was hitting .286 with a team-high two home runs and eight RBIs. In six games with the Pirates, Matt Snyder had five hits.
"We've played together before, and I think that gives us an edge," said Murakami, who was hitting .308 with eight RBIs and 12 runs scored. "Whereas other teams just have a bunch of random guys coming in."
"We just come out here every at-bat, every pitch and make the plays and have good at-bats," Mike Snyder said. "We string 'em all together, and that's why we've been doing pretty well in this league so far."