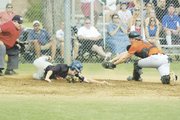 As Frank Werman, Vienna Post 180's manager, strode to the plate to discuss ground rules with umpires before Saturday's July 4th American Legion 17th District All Star Game, it occurred to him just how long he had been around area youth baseball.
He had just looked up from the scorecard containing his lineup, when Werman saw a familiar face in 27-year-old field ump Hunter Lohman. Werman, whose youngest son, Keith, currently plays baseball at Virginia, while older son Kyle is an assistant coach at George Mason — had coached Lohman in an all-star game 14 years earlier.
"He'd better give us some calls," joked Werman, who coached the National All-Stars, before the game began.
But the unlikely reunion just highlighted what has become a yearly tradition, some of the best and brightest baseball players from around the area coming together in an all star game at Water's Field with fireworks on the docket later in the evening.
<b>THIS YEAR</b>, the American All-Stars emerged victorious over the National All-Stars, 9-8, the winning run coming when Lonnie Millard of Post 130 (Falls Church) hit a fielder's choice that scored Luke Sable of Post 24.
In prior seasons, the game had been a blowout, but, reflecting the current 17th District standings — seven teams are within six games of first place — Saturday's affair was tight throughout.
The Nationals took a 6-2 lead in the fourth inning after David Fathalikhani, a 2008 Madison graduate that walked on at Ohio State this past season, scored off a double from Pike Brynildsen of T.C. Williams and Post 129. Fathalikhani also had an RBI single to score the Nationals' second run of the game.
But the American All-Stars responded in a big way in the bottom of the fifth inning, putting five runs on the board, highlighted by a two-RBI single from Washington-Lee's Jeremy Seipp that drove in Alex Prewitt of Post 130 and Hector Campos, Seipp's teammate on both the high school and American Legion circuits. When all was said and done, the American team had taken a 7-6 lead that they would never relinquish.
"It's a different experience," said Seipp of playing in his first-ever all-star game. "I just met some of these people today, but they're great players. It's fun to get some new blood and get to know new people."
<b>SEVERAL PLAYERS</b> used the Independence Day affair to pick the brains of their counterparts. Whit Mayberry, who starred on the diamond for St. Stephen's/St. Agnes the past few seasons and will attend Virginia on a baseball scholarship this fall, tried to get some advice from players like Fathalikhani and the eight others on the American team that had already been at college for a year.
"They've been talking to me a lot about staying grounded and just sticking with it once I get to school," said Mayberry, who had watched his older brother play in the 17th District All-Star Game the past two summers. Mayberry finished with two RBIs in this year's game. "It was definitely good to see all those older guys."
American All-Stars pitcher Michael Murdock of Post 24 and Mount Vernon High School picked up the win despite giving up the tying run in the top of the seventh. Teammate Basil Badley, a 2008 Mount Vernon High School graduate from Post 24, bailed him out with an RBI single that drove in Goldsmith in the bottom half of the inning.
Not that it mattered much to Werman, technically the losing manager. He was just happy to once again be showing baseball to another generation, with the sun shining on the Fourth of July.
"I love coaching this age group, the 18- and 19-year olds, I think you still have a lot of influence," said Werman. "And just the game of baseball, it's so tough there's so much to it, I like doing that, I like teaching the game."