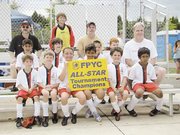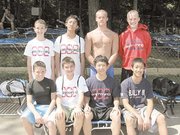 <b>Relay Rolling</b>
The Virginia Run Riptide U-8 boys' freestyle relay team continued its undefeated season with a win over Langley on Saturday, July 4. The team consisting of Charlie Gunn, Ryan Tennille, Joe Clancy and Jack Metcalf won with a time of 1 minute, 24.33 seconds. With three straight victories, the team took its undefeated streak into Wednesday night's Relay Carnival, which ended after this edition went to press. Virginia Run is a Division 5 participant in the Northern Virginia Swim League.
<b>It's a Blizzard</b>
The Southwestern Youth Association U-9 boys' all-star soccer team went undefeated in four games to win the Fairfax Police Youth Club's Father's Day Tournament. The Blizzards, coached by Jano Cymes, averaged four goals per game. Hayden Aspesi, the team's captain and goalkeeper, allowed an average of only 2.5 goals per game. The leading scorer was Mateen Bakhtari, with a total of nine goals, four of which that came on penalty kicks. Trystan Martin started the sweep with a hat trick in the first game.
<b>Sully Station Stumbles</b>
In a week where 87 Sully Station swimmers posted personal-best times and 16-year-old C.J. Fiala set a team record in the butterfly during a June 29 meet against Greenbriar, the team's loss to Fox Mill Woods on Saturday, July 4 was still disappointing. However, Sully Station displayed tenacity, patriotism and incredible team spirit during the meet. Key contributions were made by many of the Sully Station swimmers. Sully Station will host Poplar Tree on July 6 and Mansion House on July 11.
<b>Piranhas Prevail</b>
The Sully Station II Piranhas rode four record-setting performances to a 225-177 victory over Fox Mill Estates on Saturday, July 4. Kyle Nash won two events and broke a 12-year-old record for the 11-12-year-old boys' butterfly with a time of 33.73 seconds. Nash teamed with Michael Jiang, Connor Pangman and Anthony Wu to post another record in the 11-12 boys' medley relay. Following suit was the 13-14 boys' medley relay of Nick Campbell, Andrew Kwon, Ian Harkes and Ben Wu, as well as the mixed-age freestyle relay team of Nash, Nick Jiang, Campbell and Tyler Munger. The Piranhas, who will host Holmes Run on Saturday, July 11, got double-event-winning performances from Campbell, Jiang, Kwon, Carli Molano and Munger.
<b>Fastpitch Softball Tryouts</b>
The Virginia Crushers fastpitch softball team will hold tryouts for the 2009-10 (fall-spring) season at Hylton High School in Woodbridge. Tryouts for the U-10 (10 a.m.-noon), U-12 (noon-2 p.m.) and U-14 (2-4 p.m.) teams will be Saturday, Aug 8. and Sunday, Aug. 16. Tryouts for the U-16 and U-18 teams will be Saturday, Aug. 15 (2-4 p.m.) and Tuesday, Aug. 18 (6-8 p.m.). There are no boundary restrictions for the Crushers. For more information, visit the team's Web site at www.vacrushers.com, call 571-233-0174 or email va.crushers@yahoo.com.