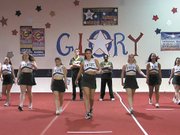 Francesca Chilcote, a 2007 graduate of Paul VI High School and aspiring actress, has landed the lead role in the feature length film "Sergeant Cheerleader." Francesca portrays the captain of the cheerleading squad and is the romantic interest of the movie. Filming was done on the campus of the College of William & Mary in Williamsburg, where Francesca is a sophomore. Sergeant Cheerleader has become a sensation in Williamsburg, attracting extensive media attention and even features cameos from local celebrities including the mayor. The film is a romantic comedy about an ROTC cadet who joins a cheerleading squad, and is donating a portion of its proceeds to the Wounded Warrior Project, a charity which supports soldiers who have been injured in the War on Terror.
Francesca was active in the drama department while at PVI, staring in "Guys and Dolls," "Arsenic and Old Lace," "Charlie's Aunt," "The Boyfriend," "But Why Bump Off Barnaby?," and "Anything Goes."
Paul VI Drama teacher Katherine Miller describes Francesca, saying, "She gave 100 percent to everything she did; from leads to bit parts, she had every bit of energy invested. She came back from William & Mary last summer to direct a high school one-act for the PVI Summer Theater Camp. The kids loved working with her and they did a great job under her direction. It does not surprise me in the least that Francesca is going on to great things."
In preparation for her role in Sergeant Cheerleader, Francesca had grueling cheerleading practices each week where she was trained to be a cheerleader. She was taught to perform dangerous cheerleading stunts and complicated choreography. Francesca has been a prolific stage performer in the theater department at William and Mary, and has enjoyed the transition to screen-acting.
"Sergeant Cheerleader" premiers Feb. 25 in Williamsburg, and will be featured in film festivals across the country. The film's trailer can be viewed at: http://www.vimeo.com/2808853.