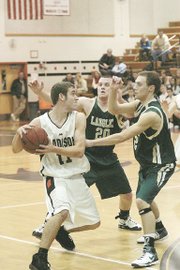 The Madison High boys basketball team, with just a few weeks remaining in the regular season, is in a pretty good position as the postseason looms. The Warhawks, having won six of their last eight games going into this week, are playing good basketball, especially on the defensive end of the floor. But they know they can get even better and hope to be at or near their peak when the Liberty District playoffs begin Feb. 17.
"We're doing it with defense," Madison coach Chris Kuhblank said of his team's winning ways in recent weeks.
The defense will have to continue to boost Madison (9-5), which does not have a high-powered offensive team.
"We're putting everything we have into our defense," said Kuhblank, who added his team's half-court style of offense, backed up by its all-out, in-your-face defensive prowess, is not the prettiest thing to watch.
But it has proven quite effective for the Warhawks, who are 4-3 in district play, third in the standings behind South Lakes (7-1) and Woodson (6-2).
Madison gave it one of those gritty efforts last Friday night in a 50-38 win at district opponent Marshall. The Warhawks were led by their top-two scoring leaders this season — senior post Will Clarkson and senior guard Omi Ogolo, who scored 16 and 10 points, respectively, in the victory over the cross-town rival Statesmen.
<b>BESIDES CLARKSON</b> (20 points per game average) and point guard Ogolo (11.5), Madison does not have any true offensive scoring standouts. That's fine, as long as the Warhawks smother teams defensively and keep games relatively low scoring. Last year, Madison had the Northern Region's top-ranked defense and this season the Warhawks are in the top-three defensively.
In Friday's win, Madison held the Statesmen to just four second-quarter points after Marshall had scored 17 in the first quarter. That shutdown quarter kept Madison in the game as it trailed the home team, 19-15, at the half before outplaying the Statesmen in the second half on way to the win.
Madison struggled with its shooting in the first half against Marshall's tough 3-2 zone defense. But over the course of the game, the Warhawks made some key plays defensively that resulted in some easier transition baskets. Madison, following its 15-points in the first half, netted 35 after the intermission.
"It was a big road win," said Kuhblank, whose Madison team lost to Marshall at the 2006 Northern Region semifinals at the Patriot Center after having beaten the Statesmen in the district tourney finals two weeks earlier.
"It's a big cross-town rivalry and we always get [Marshall's] best effort," Kuhblank said. "It's a good healthy rivalry."
Friday's win marked the second time Madison has beaten Marshall this season. In the first meeting between the two teams on Dec. 19, Madison won at home, 61-51.
Madison, going into the Marshall game, was coming off a 43-33 district road loss at Woodson last Wednesday. The Warhawks held a 31-30 lead early in the final quarter of that game before the Cavaliers overtook them.
Prior to that game, Madison had won three straight district games over McLean, Langley and Jefferson. The wins over McLean and Langley both came at home where Madison, going into this week, is a perfect 6-0 this season.
Madison has been a dominant home team in recent years, going 40-6 the past four years. Kuhblank said Madison has a wonderful home-court advantage in its cozy, but loud gymnasium. And he said the Warhawks receive outstanding support from the Vienna community,
"It's small, but it's our home," Kuhblank said of Madison's home floor. "We have a strong following. The Town of Vienna has high expectations and they want us to win. We have an amazing home crowd and a school and student body that really supports us. It's a Warhawks Nation."
Madison was scheduled to play two district home games this week — against South Lakes on Tuesday, Jan. 27, and Stone Bridge this Friday night. The Warhawks will be looking to avenge earlier season losses to both teams.