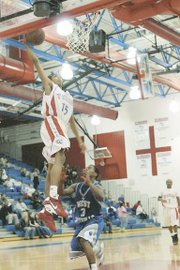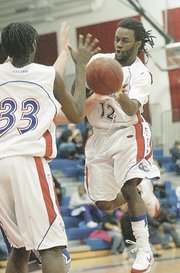 As members of the T.C. Williams boy's basketball team casually trickled out of the locker room following another ho-hum Patriot District victory — this time a 68-37 win over West Potomac — it was easy for them to overlook the significance of the event.
The Titans have won so much for so many years within their own district that only a loss would get their attention at this point. The throttling of the Wolverines last Friday night was T.C. Williams 60th-straight win within the Patriot District — a streak that spans more than four seasons, three Gilbert Arenas knee surgeries, and two Presidents.
"The streak is very important because that's the backbone of all our operations," said senior Edward Jenkins, who along with senior Dominique Copeland, has never lost a district game in his four years on the varsity squad. "For us to keep it going, it means a lot to the team. It shows the team and every player is growing and taking care of business."
The formula was no different against West Potomac, as the Titans jumped out to a 12-2 lead in the first quarter and never looked back, more than doubling up the Wolverines, entering halftime with a 35-17 lead. Junior Billy Rowland led the team with 13 points and five rebounds, while Jenkins chipped in 10 points.
<b>THE VICTORY</b> over West Potomac capped off a week that saw perhaps the biggest challenge the streak has faced ever, as T.C. Williams (14-2 overall, 9-0 Patriot District) survived against district foe Hayfield, 71-66, in an overtime affair last Wednesday night. The Titans then followed up their win over West Potomac Friday by barely extending their district winning streak to 61 games with a 67-66 victory over Annandale Monday night after Yates hit a game-winning shot with under six seconds to play.
Oftentimes coaches point to tough losses during the regular season as character building assets, and Titans coach Julian King has worried at times about whether his team is developing the necessary fortitude to make another run to a state title considering they've experienced so few defeats over the years.
But this streak is bigger than any one opponent — it has transformed into a call to duty for everyone involved. With others aiming to dethrone them, the streak has become a sense of pride for the Titans.
Talk to any of the members of the team, and it's clear they believe that the mental toughness that has come as a result of protecting such lofty status within the Northern Region has proven more beneficial than any loss could.
"These district games are more important than any games we play," said junior Ryan Yates. "[Jenkins] and [Copeland] have been here since they were freshmen, so this means more to them than anyone. I make sure I play my hardest for them."
"We just pass the torch," said Copeland. "We expect them to keep it going."
<b>IN RECENT WEEKS</b>, players have begun flashing a diamond symbol with their hands as part of pre- and post-game festivities as a way of signifying the dynasty that T.C. Williams boy's basketball has become within the entire Northern Region.
West Potomac coach David Houston thinks someone will beat these Titans eventually, but could only shrug his shoulders when the thought of when came up.
"Unfortunately I've been on the other end of some of those 60," he said. "What T.C. does is if you have a weakness, they'll bring it out in you."
All this adds up to a small drop off in victories for this year's Titans, who lost nine seniors and their head coach from last season's state championship team.
What was once just a winning streak is now a way of life.
"Guys spend all day in this school, come into the gym, and put in a lot of work just so we can keep the streak going," said Jenkins.
But here's the scary part, courtesy of someone who hasn't experienced district defeat since our current President had just started his first term as senator.
"We've been doing this for three or four years straight, undefeated," said a grinning Copeland. "And we can get better."