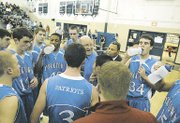 Turn the channel to a college basketball game these days and there's no doubt some kind of riveting conference matchup pitting two teams battling for tournament position is under way.
Head to a local Arlington gym in the next couple of weeks and it's the exact same scenario. With round two of the all-city matchups beginning Thursday night when Yorktown and Washington-Lee meet in both girl's and boy's basketball, the pressure has been ratcheted even more thanks to postseason seeding implications.
Heading into Thursday's game with the Generals, the Yorktown boy's (9-8 overall, 5-2 National District) are tied with Stuart and just one game ahead of Wakefield (12-5, 4-3). The Patriots lost to district-leading Mount Vernon (12-4, 7-0) last Thursday, but get another shot at the Majors in the season's final contest. Yorktown and Wakefield meet this Friday night in a boy-girl doubleheader beginning at 6 p.m.
And now that Yorktown, Washington-Lee (2-14, 1-6), and Wakefield are seeing each other for a second time, changes will be made.
"Opponents start making adjustments to you, so you gotta make adjustments to them," said Yorktown coach Rich Avila. "The second time around, games are decided by who makes the better adjustments."
The Lady Patriots are no different from their male counterparts. The National District girl's competition has been dominated by Mount Vernon, which also defeated Yorktown (10-6, 5-2) last Thursday. But the Patriots still sit just two games behind the Majors and just a half-game behind second-place Edison.
"We'll definitely go back and watch the tapes from when we played them in the first round and adjust our defense and we have different plays that we might use," said Yorktown girl's coach Kim Cordell.
And although Washington-Lee (4-12, 3-4) and Wakefield (0-6,0-17) haven't had as much success, the second half of district play allows them the opportunity to act as spoilers.