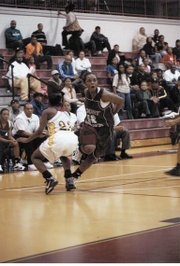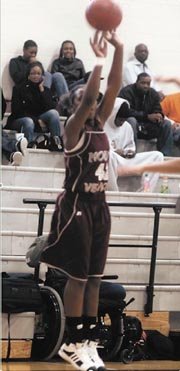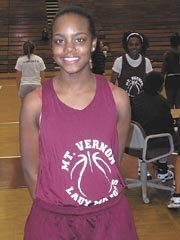 Mount Vernon girl's basketball player Tracy King freely admits to being embarrassed when her mother tries to act cool by dancing in front of her friends. Then again, when that means her mom's moves are being broadcast to the whole school, it's a little easier to empathize with the younger King.
The junior is in the position of not only establishing herself the star player for the Majors as they've reeled off a remarkable 14 straight wins following a season-opening loss to South County, but doing so while also being the daughter of Mount Vernon's principal, Nardos King.
Sitting just nine points from eclipsing the 1,000-point mark for her career heading into Wednesday's game against Yorktown, King has grown accustomed to being the center of attention around the hallways these days — even if it means blushing a bit after her mom does what she considers "crazy stuff."
"Everyone knows me as the principal's daughter … but sometimes she'll try to dance at the pep rallies and that's embarrassing because she doesn't know how to dance," said King, who is currently sixth all-time in scoring for the Mount Vernon girl's basketball program. "She tries to be funny but I don't really care anymore because people think it's funny."
Her mom will only admit that, "A couple days on the morning news I may have done a few dances that she wasn't too happy about."
<b>THE FAMILY AFFAIR</b> goes beyond mother and daughter, though. Tracy's older brother was a three-sport star at Mount Vernon a few years ago. And before Nardos King took over as Mount Vernon principal three years ago, Tracy's father, Stan King, was also a coach for the Mount Vernon girl's team. Due to county regulations, he had to step down as coach once his wife became principal, but he still coaches his daughter during the AAU season.
"When it comes to her status on the basketball team, I'm mom," said Nardos King about her relationship with Tracy, who is districted to go to Lee High School, but came to Mount Vernon with her mother. "I cheer the whole team on the same because they're all my kids. When you're principal you take on that role. I'm not pressed for my daughter to be the star."
She's had no choice this season, though, as Tracy King has averaged close to 20 points per game while making her Majors one of the biggest surprises — and threats — in the Northern Region.
First-year coach Terry Henderson made the preseason decision to switch King from the point guard position, where she played freshman and sophomore year, to a more natural wing position. Alongside Jalinda Venable, a transfer from Paul VI, King says she's "more comfortable" there. A main reason she has received interest from schools like Clemson, Drexel, and Richmond once her illustrious Mount Vernon basketball career is complete.
"She has such an outgoing personality that everyone is just drawn to her," said Henderson. "But you wouldn't know it from talking to her because she's so humble. She's really made my job very easy."
<b>KING'S PERSONALITY</b> is probably best described as easy going and while her status at school as star basketball player and principal's daughter often puts her in the limelight, it's hard to tell from being around her.
Last week, Henderson jokingly wondered if his practices were becoming too easy as he watched King munch on a peanut butter sandwich minutes before she took the floor. King simply shrugged off the comment with a smile on her face.
It seems that go-with-the-flow nature is what makes her and her team so successful with the spotlight shining so brightly on them of late. For instance, King never kept track of her point totals in past seasons and only realized she was closing in on 1,000 points when an assistant coach told her she 29 away. Now she's excited for Wednesday after watching an opposing player reach 1,000 points in the past.
"They stop the game and give you the ball and I thought that was cool," she said.
Still, mom is worried how King will react Wednesday night with even more pressure on her shoulders, just four or five field goals away from reaching the milestone.
"I hope she doesn't get nervous," said Nardos King, adding that several family members are coming into town for the occasion. "We want to win the game, that's more important than the 1,000 points."
Chances are the nerves will be no worse than when she senses mom is about to bust a move again.