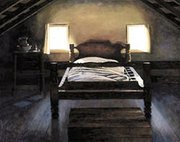 Send announcements or events, which are open to the public at no or minimal cost, to The Loudoun Connection, 7913 Westpark Drive, McLean, VA 22102 or e-mail <a href="mailto:loudoun@connectionnewspapers.com">loudoun@connectionnewspapers.com</a>. Deadline is Friday, two weeks before the event. Photos/artwork encouraged.
Neorealist Sherry Zvares Sanábria's paintings from the series, "Unforgotten: Slave Quarters and Other African American Sites" will be on display through March 23, at George Washington University Virginia Campus, Building 2, 44983 Knoll Square, Ashburn. Complimenting the Sanábria exhibit, Honoring and Commemorating Black Leadership is a selection of the artwork chosen or commissioned by the U.S. Postal Service, will be on display Jan. 22-March 23. The opening reception is scheduled on Saturday, Jan. 24, 5-8:30 p.m. RSVP by Jan. 20 to reservations@va.gwu.edu or call 703-726-3650.
The Pickwick Players will hold auditions for "Crazy For You" Friday, Jan. 30, 7-9:30 p.m., at St. James Episcopal Church, 14 Cornwall St. N.W., Leesburg and Saturday, Jan. 31, 10 a.m.-12 p.m., at Dulles South Multipurpose Center, 24950 Riding Center Drive, South Riding. Come prepared with a memorized one-minute monologue and 16 bars of an upbeat song and be prepared to tap dance. E-mail pickwickplayers@mail.com.
Applications are now available for artists for the fourth annual Western Loudoun Artists Studio Tour, scheduled for June 20-21. Any 2- or 3-D work will be considered, including painting, drawing, fiber art, wood, ceramics, photography, sculpture and jewelry. Call 703-777-5498 or 540-338-7973, visit wlast.org/ApplicationForm2009.pdf or http://wlast.org:80/onlineentry.htm for applications. Postmarked deadline for submission is Saturday, Jan. 31.
The Artists' Undertaking Gallery presents Bright and Bold, an exhibit of watercolors by Jack Dyer of Springfield and fused glass by David Barnes of Sterling. The exhibit runs Feb. 3–March 2, 11 a.m.–5 p.m. daily at 309 Mill St., Occoquan. Call 703-494-0584 or visit www.theartistsundertaking.com.
Dominion High School Drama presents "Arsenic and Old Lace," a dark comedy about a couple of sweet elderly sisters who are known in their Brooklyn neighborhood for their acts of charity. The show will run Thursday-Saturday, Feb. 5-7, 7:30 p.m. and Sunday, Feb. 8, 3 p.m., at the Dominion Auditorium, 21326 Augusta Drive, Sterling. $7 for students and children; $8 for adults; tickets can be purchased at the door.
The International Youth Orchestra is holding auditions for accomplished young musicians ages 10-17 for the summer 2009 season. Available positions include principal and/or section chairs in the following instruments: violin, viola, cello, string bass, flute, oboe, clarinet, bassoon, trumpet, trombone, French horn, percussion. Scholarships will be granted to principal chairs. Auditions will be held, by appointment only, at Woods Recreational Center, 44020 Louisa Drive, Ashburn, Saturday, Feb. 14, 11 a.m.-1 p.m. Call 703-628-2589 or e-mail info@ymppa.org to sign up to audition.
Paintings by Loudoun artists Maggie Siner and Kurt Schwarz are on display at Washington Dulles International Airport through March 31.
The exhibit, coordinated by Gallery 222 and the Washington Metropolitan Airport Authority, is the sixth in the program's rotating series of displays. The paintings are installed in the area beyond the security checkpoints in the Main Terminal on the Arrivals Level.