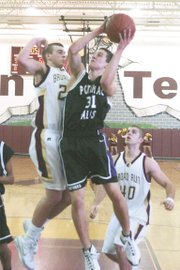 The Potomac Falls High boys basketball team displayed some good old fashioned resolve in recently bouncing back strong from a pair of Dulles District losses.
The defending district champs have a much different look than last year's championship squad. Seven of last year's players were lost to graduation last spring. But coach Jeff Hawes likes the way his new-look team has progressed over the first half of the season. The Panthers, at 11-4 overall and 6-2 in district play going into this week, look as if they will certainly be in the hunt for another district crown.
<b>BUT IT WILL</b> not be easy for Potomac Falls. The team lost a pair of district games to tough opponents two weeks ago — setbacks to Dominion, 58-52, on Jan. 8, and Broad Run, 64-56, on Jan. 12.
But Hawes was impressed with his team's spirited, hard-working practice session the day following the road loss to the Spartans. He said the team focused on rebounding the ball better and getting back to running its offense with better clarity, areas that hurt the Panthers in the Broad Run game.
The results were positive for Potomac Falls, which played some of its better basketball of the season over its next two games — decisive district home wins over Briar Woods, 72-42, on Jan. 14, and Heritage, 72-57, last Saturday.
"We played as well as we have all year in that game," Hawes said of the win over the Heritage Pride in which the Panthers jumped out to a 36-12 lead. "We really stepped it up on defense and ran our offensive sets a lot crisper than we had been doing."
Panther sophomore shooting guard Lukas Mihailovich scored 21 points and senior guard Kevin Bartnick tallied 20 in the win over Heritage. Senior Mick Wagenhoffer added 12 points.
<b>EARLIER LAST WEEK</b>, in the win over Briar Woods, Potomac Falls easily defeated an up-and-coming Falcons' squad that came back in strong fashion three days later to defeat a Dominion team that had not previously lost a district game.
"We beat a pesky Briar Woods team pretty good," Hawes said of his team's 30-point win. "We played really well."
Now, Potomac Falls wants to continue to fine-tune its game as it goes through the second half of the district schedule. The Panthers are in a 10-day break due to exam week. They are scheduled to play district games against Loudoun County and Park View next week, with the game against the Patriots scheduled to take place at Potomac Falls.
"We're going to keep working and try to get better and better," said Hawes, who said his team is a more seasoned squad after having played more than a half of the season. "We've grown up quite a bit as a team and learned from our losses to Dominion and Broad Run."
One key for any good team's success is its defensive play.
"You're defense can never be too good," Hawes said. "We're a little bit better now than we were a week ago, I can say that."