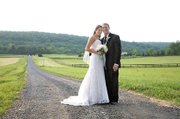 The marriage of Miss Kelly Marie Clifton, of San Francisco, Calif., daughter of Mr. and Mrs. Henry Clifton of Centreville, to Mr. John Frederick Hack III, of San Francisco, son of Mr. and Mrs. John F. Hack, Jr. of Estero, Fla., took place on May 31, 2008 on the grounds of Whitehall Manor, in Bluemont, Va. The Bishop Michael Carroll officiated.
The bride, escorted by her father and given in marriage by her parents, is the granddaughter of Mrs. Margaret Brantley of Colfax, N.C., and the late Mr. Walter F. Brantley, Jr., and the late Mrs. Marianne Clifton and the late Mr. Jonas Clifton.
Miss Ashley Clifton of Arlington and Miss Lindsay Clifton of Centreville were their sister's Maids of Honor. Bridesmaids were Ashley Bland of Alexandria, Amy Chellino of Arlington, Merissa Gamba of Duluth, Ga., Joy Knighton of Charlottesville, Ashleigh Slawski of Charlottesville, and Katie Swearingen of Washington, D.C.
Mr. Corey Benjamin of Richmond and Mr. James Hanson of Morrisville, N.C., were the Best Men of the groom. Groomsmen were Jonathan Drillings of San Francisco, Calif., Winston Eaton of Boston, Mass., William Gamba of Duluth, Ga., Edward Rosenwasser of San Francisco, Ca., Gregory Solarz of New York, and Brandon Van Grack of Washington, D.C.
Wedding music was provided by guitarists Robert Solarz of Richboro, Pa., and Justin Dantonio of Chicago, IL.
The readers were Laura Howell of Arlington and Amy Minton of Atlanta, Ga.
The rehearsal dinner, hosted by the groom's family, was held at Hillsboro Vineyards, Hillsboro, Va. The reception, with dinner and dancing, was held at Whitehall Manor. Entertainment was provided by The Wrest of Richmond.
The bride, a 1999 graduate of Chantilly High School, received a degree from the University of Virginia and was employed as Assistant Merchant for Levi Strauss in San Francisco until the wedding date. She is currently employed in New York as Merchant with J. Crew. The groom, a 1997 graduate of James M. Bennett High School in Salisbury, Md., is a graduate of Duke University and was a Project Manager with Accenture in San Francisco and is currently a Software Architect for the D.E. Shaw group in New York.
After a honeymoon in Greece, the couple resides in New York.