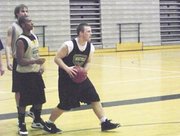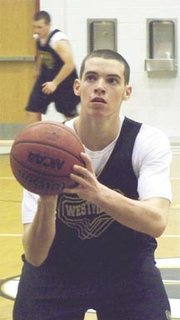 At one point during practice on Monday evening, Westfield's Jacob Ryder bent his knees and quickly flung himself toward the basketball hoop overhead. In an action directed at nobody in particular, he wanted to try and at least touch the rim.
Ryder nipped the backboard.
Linemen -- what can you do?
For the past four years, Ryder has played offensive line for Westfield's football team and transitioned to the basketball court after the season. It's not uncommon for high school athletes to perform double duty — Centreville's Warren Denny excels in both — but most of those football players aren't offensive lineman.
And they certainly aren't offensive tackles.
Ryder helped the Bulldogs win the 2007 Virginia AAA state title and blocked for 1,964-yard rusher Jordan Anderson this past fall. On the basketball court, Ryder prides himself in getting to loose balls and causing havoc on defense. He also averages around nine points and four rebounds per game.
"He might be an offensive tackle playing guard, but he's an athletic offensive tackle playing guard," said Westfield coach Doug Ewell.
"With Jacob, his work ethic is different than that of anybody I've ever met," said senior center Chris Kearney. "He's a big football player, but as soon as he's off the field he switches mindsets like a light switch.
"He gets in that frame of mind for basketball, and I'm pretty sure that no other lineman is out here playing basketball at the guard position like he is."
<b>RYDER CLAIMS</b> he's more of a football player playing basketball than a basketball player playing football, and his size supports that argument. Generously listed at 5-foot-11 and ungenerously listed at 215 pounds, Ryder looks like a football player.
Ewell ribs Ryder annually for his player's lack of fitness come basketball season. Football, he says, consists of five-second plays followed by 35 seconds of downtime. Basketball? A different story.
This leads to the increased running program that Ewell puts his players through at the beginning of every season. Sure, there are benefits on the court, but it also helps his football players mold themselves into basketball shape.
Despite his considerable size and the lack of running that belies the life of offensive lineman, Ryder, like several other football players on the team, has fulfilled his commitment to the basketball program.
"There's a little adjustment period after football is over," Ryder said. "After a couple weeks I'm usually pretty good. It's just different muscles and different athletic skills. I have to work on my conditioning and stamina because in basketball there's no break."
"He comes to practice like it's his job," Ewell said. "He's going to be real successful in the workforce because he treats practice like a job."
<b>THAT ATTITUDE</b> has rubbed off on his teammates. With a 69-51 win over Robinson Tuesday night, the Bulldogs improved to 12-1 overall, 4-0 in the Concorde District. They've won 10 straight games ahead of a showdown with Chantilly (12-1, 4-0) on Friday.
With five strong senior captains — Kearney, Ryder, Jay Jackson, Peter Scanlon and A.V. Lawless — Westfield has developed a closeness that results in a circle at mid-court after every practice, airing out thoughts and trying to end practice on a positive note.
During games Westfield has been equally as smooth. Despite losing four of the five leading scorers from last year's 21-3 team, the Bulldogs have achieved a remarkable offensive balance, with the ability to score from inside and out.
Kearney, who was named the Bulldog Bash's Most Valuable Player in late December, has contributed an average of 21 points, 12 rebounds and four blocks per game, while Scanlon has been the team's second-leading scorer with around 12 points and five rebounds per contest.
Scanlon was on of the team's few known commodities entering this season after averaging 7.8 points and four rebounds a season ago.
"We play for each other and when you do that good things will happen," Scanlon said. "We start inside and that opens things up. People respect that, and that opens things up for everybody else."
You know, it's sorta like running the football to set up the pass.
Ask Ryder, he'd know.