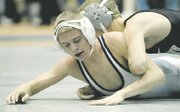 At eye level with Andy Jimmo's desk, a rectangular piece of paper is taped to the wall. "I care little of what others think of what I do," the paper reads. "I care greatly, however, about what I think of what I do."
The 2-by-6-inch strip of paper summarizes Jimmo's philosophy of how he leads the South County wrestling program. As long as Jimmo believes the decision he's made is correct, he isn't affected by outside forces.
And it's probably a good thing. Because someone who drives by the Occoquan Bridge and sees one of Jimmo's wrestlers running full speed down a hill with a 50-pound sandbag on his back might be tempted to think that the fourth-year coach has lost it.
But Jimmo has a greater vision. He has pushed his team to limits rarely reached in high school sports and has done so for the sake of his wrestlers' futures. No matter what the obstacle, wrestling practice offers more of a challenge.
"We learn from discomfort, and we learn by putting ourselves in bad situations," said Jimmo, of his demanding strength and conditioning program, which features those sandbag runs, fire hose workouts and any number of body-burning weightlifting circuits.
"It's definitely hard, but our coach always says that the sacrifices now will pay off in the end," said 103-pound senior Patrick Shaffer, who went 48-9 as a junior last season. "Come spring, we're going to end up missing most of this."
<b>JIMMO'S UNORTHODOX</b> workouts have paid off. Despite a rough debut in the Patriot District, South County has slowly evolved into not only a district favorite but one of the Northern Region's top teams.
When South County first opened its doors prior to the 2005-06 wrestling season, Shaffer was one of only a handful of wrestlers with any sort of background, having wrestled for the Northern Virginia Wrestling Federation's Bandits since fourth grade.
But the majority of Shaffer's teammates were only trying the sport because Jimmo, who also teaches at South County, had talked them into it. The Stallions struggled that first year, finishing 5-25 and taking some serious lumps.
The team improved the next year with a 28-18 mark and went 26-12 last winter. This season, the Stallions have cemented their spot at the top, improving to 13-4 on the year with a second-place finish at the James River Duals this past weekend.
"We've built this program from the ground up with coach Jimmo," said 215-pound senior Chris Kichinko, who went 7-0 during the James River tournament. "We're really the first four-year Stallions, and we're finally starting to see our effort come through."
"It's very interesting to go from what we used to be to what we are now," said 152-pound senior Patrick Fitzgerald, who went 40-18 as a junior. "It used to be, 'Oh, thank God we have South County next,' and now when [an opponent] hears they're wrestling a South County kid, it's like, 'Oh damn, that sucks.'"
<b>THE ATTITUDE CHANGE</b> has been two-fold. Part of Jimmo's aim has been to improve self-confidence, and, according to players, that has happened. The majority of South County's wrestlers feel that entering the third period, they're at an advantage.
John Fitzgerald, Patrick's twin brother and a 145-pound senior, said that he couldn't think of any of his friends at other schools that have endured something like he and his teammates have.
Furthermore, Centreville's wrestling team once spent a day completing South County's workout. John Fitzgerald laughed. Nothing against Centreville, he said, but that was an easy day.
"We have a really good work ethic," said John Fitzgerald, whose junior year was cut short with a dislocated knee. "Everybody is committed, and everybody shows up in the summer. They want to get better and do what they have to do for the team."
In addition to the first-place finish at James River, South County earned fourth place at the Northern Region Wrestling Classic, on Dec. 5-6, at Fairfax High School. Shaffer recorded a tournament-best four pins en route to the 103-pound title, and eight South County wrestlers posted top-eight finishes.
While waking up the sun with a sandbag on his back may not top Kichinko's list of favorite weekend activities, he admitted that one day he'll miss the work. After all, he and nine other seniors have set a standard at South County, and soon it will be up to the underclassman to match it.
"Come next winter, it's going to be December and I'm going to realize that I haven't woken up at 4:30 a.m. to go to practice at all," Kichinko said. "I'll shed a little tear that I miss it. It's been fun while it's lasted, and it'll be time for the younger guys to take our spots."