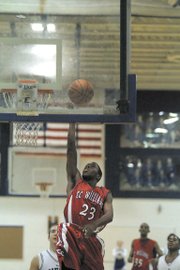 The <b>T.C. Williams</b> boy's basketball team improved its record to 8-1 Tuesday night with a 67-49 win over Patriot District foe Lee. Senior Ryan Yates led the charge with 15 points. The Titans are now 3-0 in district. Their lone loss of the season was to Riverdale Baptist on Dec. 23.
Meanwhile the Titan girl's upped their record to 6-4 with a 61-37 win over Lee Tuesday night. Senior Tierra Ruffin-Pratt led the team with 12 points, while sophomore Sade Barber added in 11 points. Both the T.C. Williams boy's and girl's teams take on West Springfield Friday night.
The <b>Episcopal</b> boy's basketball team improved its record to 4-2 with a win over Potomac School Tuesday night. Senior Given Kalipinde had a game-high 25 points.
The Bishop Ireton boy's and girl's basketball teams both dropped games to Carroll Tuesday night.
<b>Avengers Start Season</b>
The Alexandria Avengers semi-pro basketball team kicked off its second season on Jan. 3 with a wild 124-121 victory over the Hampton Roads Cardinals. Trailing for nearly the entire contest, the Avengers put together a furious fourth quarter comeback led by guard Tyree Harris (22 points) and veteran Brian Polk (17 points).
The Avengers take the court again this Saturday at Mount Vernon High School at 7 p.m. to take on the Newark Rebels.
<b>Titan Swimmers Break Record</b>
Although the T.C. Williams swim and dive team is winless in its three dual meets this season, the slow start hasn't been without its highlights. Against Lake Braddock on Dec. 12, two team records were broken. Senior Larry Dow broke the boy's 100-yard freestyle record with a state qualifying time of 48.02, while freshman Abby broke the girl's 100-yard breast stroke record with a time of 1:11.