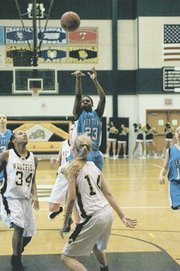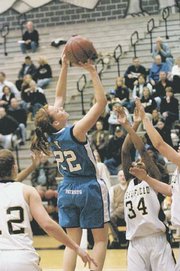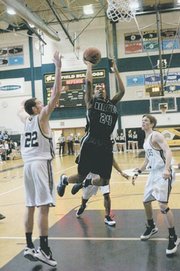 It had already been a long night for the Yorktown girl's basketball team when senior Carla Manger stole a pass at midcourt, went streaking in for what looked to be an easy layup, only to watch it precariously roll off the rim into teammate LaNia Charity's hands.
Charity proceeded to brick the follow-up attempt as Westfield took control of the ball and the remainder of Monday night's Northern Region tournament first-round match-up between the two schools.
The muffed lay-ups were a fitting conclusion to a 63-48 Yorktown loss in which the Patriots couldn't seem to get the lid off the hoop.
"We just could not make a shot," said coach Kim Cordell after her team went 16-for-49 from the field. "We got a lot of offensive rebounds, a lot of opportunities, they just weren't falling for us."
Yorktown (14-10 overall, 9-5 National) is now eliminated from the regional tournament and can only wait until next year to exact some form of revenge.
The Patriots had a huge size advantage on the interior with six players listed at 5-foot-9 or taller and took advantage of it on the glass, led by junior Lindiwe Rennert (eight rebounds). But Westfield (18-8) had a gameplan of its own to offset the Patriots' rebounding edge. The Bulldogs run a spread out Princeton-style offense heavy on pick-and-rolls that forced many of Yorktown's interior players to guard on the perimeter.
It didn't help that the Patriots' star player and first-team all-National District selection, Charity (team-high 15 points), was saddled with three fouls in the first half, forcing her to start the second half on the bench.
"It definitely changed things because she's such a strong player on both ends," said Cordell.
Still, the loss wasn't all for naught for Charity, Manger (six points), and the rest of the Yorktown senior class. A year after taking the Patriots all the way to the regional semifinals, this senior class can say they helped bring Yorktown back to the upper echelon of the National District.
Still, they harbored dreams of getting to this Friday's semifinals yet again. For now, all they can do is wonder what could have been if it weren't for an off shooting night.
"I think once everything starts sinking in, I'll finally look back, maybe cry a little bit, seeing how well I've done and how well the program has done," said Charity.
<b>THOSE PESKY RIMS</b> also caused havoc in the Northern Region boy's first-round match-up between Wakefield and Westfield that followed the girl's game. Wakefield was missing its own star, Johnathan Ford (19.4 ppg), after the senior picked up two technical fouls in the team's National District Tournament semifinal loss to Stuart. VHSL rules stipulate that an ejected player must miss his or her's next game.
As a result the Warriors scored just one basket in the first quarter and 10 points the entire first half en route to a 53-43 loss to Westfield. Wakefield made runs during the second and fourth quarters, but they were always answered by the Bulldog duo of guard Jacob Ryder (19 points) and 6-foot-7 center Chris Kearney (13 points, six rebounds, six blocks).
Seniors Robel Getu (15 points), Romeo Goffney (eight points), and Corey Levenberry (six points, nine rebounds) led Wakefield.
After a disappointing 8-14 record a year ago, the Warriors started the season winning nine of their first 10 games. Wakefield (17-8 overall, 9-4 National) then closed the regular season with wins in six of its last seven games.
"You can't replace 20 points a night," said coach Tony Bentley. "When the ball is in (Ford's) hands, all the others look to him. Tonight when a guy had the ball, (Westfield) didn't have to concentrate on one guy."
<b>THE YORKTOWN BOY'S</b> team also came out on the short end of its first-round regional tournament game, losing to Chantilly, 62-47. The Patriots were led by seniors Simon Kilday (10 points) and Will Carey (nine points).
Yorktown (13-12, 10-5) started the year losing four of its first five, but improved as the season went along. The team was once again solid in district play.