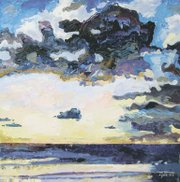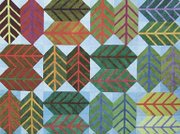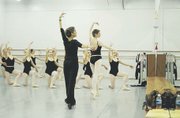 Send announcements or events, which are open to the public at no or minimal cost, to The Loudoun Connection, 7913 Westpark Drive, McLean, VA 22102 or e-mail <a href="mailto:loudoun@connectionnewspapers.com">loudoun@connectionnewspapers.com</a>. Deadline is Friday, two weeks before the event. Photos/artwork encouraged.
Sterling Playmakers has an immediate opening for an actor, or actress, to play Roger, or Roberta, Hopewell in its production of "The Musical Comedy Murders of 1940," which is in rehearsal. See http://www.sterlingplaymakers.com/ for a character description and production dates. For more information, e-mail mcm1940@sterlingplaymakers.com. Scripts are available through Dramatist's Play Service, http://www.dramatists.com/index.asp.
An exhibition of quilts made by members of the CountrySide Quilt Guild is on display at the Loudoun County Government Center's Gallery One, Government Center, first floor, 1 Harrison St. S.E., Leesburg. Ten quilters are participating in the exhibit, which showcases more than a dozen quilts. The quilts can be viewed through the month of February during regular business hours, 8:30 a.m.-5 p.m., Monday-Friday.
The Sterling Playmakers will present their next play, the musical "Puss In Boots," a play for children by Vera Morris, Feb. 27 and 28 and March 1, 7 and 8. Evening performances on Fridays and Saturdays, 7:30 p.m., matinees on Saturday s and Sundays, 3 p.m.
Works by Conor Backman of Purcellville will be on display in an exhibit titled Variances, through Feb. 28, at Gallery 222, 222 S. King St., Leesburg.
Franklin Park Arts Center, 36441 Blueridge View Lane, Purcellville, presents the 10th annual Youth Art Show Sunday, through Feb. 28. Students will display their talent in all media and certificates and ribbons will be presented. The opening reception will be Sunday, Feb. 8, 1 p.m. Call Barbara Sample at 540-338-7973 or visit www.franklinparkartscenter.org.
Art on exhibit at the libraries for March and April include at Ashburn Library, 43316 Hay Road, March: art by the students of The Boyd School in celebration of Youth Art Month and March and April: watercolor paintings by Alice Power; and at Cascades Library, 21030 Whitfield Place, Potomac Falls, nature photography by Jim Emery.
The production "Five Women Wearing the Same Dress" will run through March 1, at the Waddel Theater, 1000 Harry Byrd Highway, Sterling. Shows are Fridays and Saturdays, 8 p.m. and Sundays, at 7 p.m. Admission: $15 adults, $10 students and seniors.
The Artists' Undertaking Gallery presents Bright and Bold, an exhibit of watercolors by Jack Dyer of Springfield and fused glass by David Barnes of Sterling. The exhibit runs through March 2, 11 a.m.–5 p.m. daily at 309 Mill St., Occoquan. Call 703-494-0584 or visit www.theartistsundertaking.com.
The Sterling United Methodist Players is presenting "Joseph and the Amazing Technicolor Dreamcoat," 7 p.m., Friday and Saturday evenings, March 6 and 7, and at 2 p.m., Sunday afternoon, March 8, in the sanctuary of Sterling United Methodist Church, 304 East Church Road in Sterling. Cost: in advance $7 per adult and $5 per child age 4-12, children age 3 and under are free, but pick up a ticket to hold the child's seat and at the door $1 more. Contact the church office at 703-430-6455 or visit www.sterlingumc.org.
A varied and colorful collection of fabric art created by 11 members of the New Image Group will be on exhibit at Gallery 222, March 6-28, with an opening reception Friday, March 6, from 6-9 p.m. In addition, several of the members will be present for a Gallery Talk Sunday, March 22, at 3 p.m., to answer questions about their artwork. Contact Gallery 222 at www.gallery222.com or 703-777-5498; Gallery 222 is located at 222 South King St. in historic downtown Leesburg.
Paintings by Sterling artist Tom Zuk will be on display in Gallery Two at Gallery 222 in Leesburg. The exhibit, Earth, Wind and Water, will be on display March 6-28 with an opening reception Friday, March 6, from 6-9 p.m. during Leesburg's Gallery Walk. Gallery Two is collocated with Gallery 222, 222 South King St., Leesburg. Call 703-777-5498 or visit www.gallery222.com.
The Loudoun Lyric Opera, supported by the Loudoun Symphony, will perform Donizetti's comic opera "L'Elisir d'Amore" Saturday, March 14 and Sunday, March 15, at 8 p.m., at Heritage High School, 520 Evergreen Mill Road S.E., Leesburg. Cost: $20 person advance, $25 person at the door, $15 senior advance, $20 senior at the door, free for ages 18 years and younger.
Neorealist Sherry Zvares Sanábria's paintings from the series, "Unforgotten: Slave Quarters and Other African American Sites" will be on display through March 23, at George Washington University Virginia Campus, Building 2, 44983 Knoll Square, Ashburn. Complimenting the Sanábria exhibit, Honoring and Commemorating Black Leadership is a selection of the artwork chosen or commissioned by the U.S. Postal Service, will be on display through March 23.
Monotype and relief prints by Heather Self will be on exhibit from through March 27 in the Waddell Art Gallery at the Loudoun Campus of Northern Virginia Community College, 1000 Harry Flood Byrd Highway, Sterling.
The Loudoun Ballet Company will perform its spring production, "Shades of Beauty," Saturday, March 28 and Sunday, March 29, at 2 p.m., both days, at Potomac Falls High School, 46400 Algonkian Parkway, Sterling. Cost: $12 adults advance, $10 children and seniors advance, $15 person at the door. Call 703-771-8074 or visit www.loudounballet.org.
Paintings by Loudoun artists Maggie Siner and Kurt Schwarz are on display at Washington Dulles International Airport through March 31.
The exhibit, coordinated by Gallery 222 and the Washington Metropolitan Airport Authority, is the sixth in the program's rotating series of displays. The paintings are installed in the area beyond the security checkpoints in the Main Terminal on the Arrivals Level.
Gallery 222 will host "An Evening for Art's Sake" Friday, April 10, 6-9 p.m., at Thomas Birkby House, 109 Loudoun St. S.W., Leesburg. Silent and live auctions feature original artwork by leading area artists, gifts and other items. Cocktails and Hors d'oeuvres provided. Visit www.gallery222.com or call 703-777-5498 for tickets.