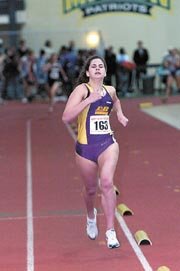 Sometimes a fourth-place finish doesn't look like much on paper, but it means the world to the athlete who achieved it. While for some, that same result may signify a day to forget.
There are also athletes that no matter when or where they compete, they're expected to deliver a dynamic performance, a first-place finish or a record-setting mark.
And when the two stories collide? Well, that's even better.
At the Feb. 21 Northern Region indoor track and field championships at George Mason University's Field House, the Lake Braddock girls team had one of these unsung stories unfold while receiving yet another dominating performance from its dynamic distance runner.
<b>SENIOR TAYLOR MOORE,</b> who hurt her Achilles tendon earlier in the week and nearly wasn't able to compete, brought the Bruins from fourth to first in the 4x800-meter relay, which Lake Braddock eventually won with a time of 9:40.76. The girls team finished third with 49 points, 22 behind first-place Robinson.
"I don't know if I strained it or something," said Moore, a cellist in the school orchestra, of the Achilles injury. "Then two days ago, I pulled a muscle in my back, so I've just been struggling. But we won and that was totally unexpected."
In addition to shrugging off two injuries to run a personal-best relay split (2:22), two years ago at the Virginia AAA state outdoor meet Moore gave up her spot on the same relay team. She was sick and felt that her teammates would perform better than she was capable of.
"It was that karmic, writing-of-the-world-type stuff that she was the one that got to have the big moment," said Bruins coach Mike Mangan. The school's cross-country coach as well, Mangan acknowledged how Moore would complete her cross-country workout late at night after adjusting her schedule because of orchestra practice.
<b>LESS KARMIC</b> was the performance put forth by Liana Epstein, a junior distance runner who has done nothing over the past year but distance herself from her competition. She took first in the 1,000, running a near-school-record time of 5:01.58.
The reigning Patriot District and Northern Region cross-country champion, Epstein entered high school with no competitive running experience and only joined the indoor track and field team as a way to stay in shape for soccer.
Growing up in a fitness-oriented family, Epstein used to embark on 30- or 40-minute runs to condition for a sport she thought she was going to play in high school.
"I really didn't think there was anything special there. I just thought that everybody could go on 30- or 40-minute runs," Epstein said. "I think what happens to a lot of people is that when they try running they become addicted to it, and it's something that sticks with you."
Epstein's freshman soccer season turned out to be her last and she's been leading races ever since. At last year's outdoor region meet, Epstein held off Herndon's Hiruni Wijayaratne by four-tenths of a second and ran a much-discussed 4:57.46.
"I'm glad I went through the transition because running is something that sticks with you for life," Epstein said. "Soccer may not have gotten me as far, and I'm good at it apparently."
<b>IN OTHER MEET ACTION,</b> Lake Braddock's Becca Shoemaker won the pole vault by clearing 9 feet, 9 inches, while teammate Becca Sinichko was second in the 500 dash at 1:15.72.
On the boys side, Lake Braddock took sixth with 42 points, 17.5 less than first-place South Lakes. The Bruins were led by Mike Santano, who was second in the high jump (6-03) and 55 hurdles (7.71). Teammates Matt Hoogland and David Fishman, finished second and third in the pole vault at 14-0 and 13-03, respectively.
The West Springfield girls team was fifth with 41 points, while the boys team took 20th. Caroline Peterson finished second in the 55 hurdles (8.84) and Daniel Tobin placed third in the 1,600 (4:26.94). The girls 4x400 relay team of Amalya Clayton, Emily Ellis, Kara Lewis and Melanie Fish took third with a time of 4:06.68.