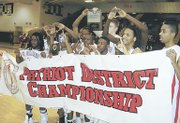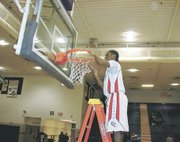 Perhaps the best way to look at the T.C. Williams boy's basketball team's fourth-straight Patriot District title, won last Friday in a 76-57 beat down of Annandale, is through the eyes of senior Gavin Peterson.
While some on the defending state champion Titans may take it for granted having emerged victorious in 69 straight district games, Peterson was a relative unknown buried on the bench for many of those wins.
He began this season as the team's starting point guard, but around Christmas time coach Julian King made the decision to go with senior Dominique Copeland to begin games, bringing Peterson off the bench.
"I was shaky with it, but I thought it would work so I was like, 'All right, let's see,'" said Peterson. During the Wakefield Holiday Tournament that followed, the 5-foot-10 lefty averaged more than nine points per contest in his new role.
At the end of January, Peterson hit 13-of-16 free throws and scored 17 totals points during a nail-biting 72-68 win over Lee. He capped it all off in the district tournament last week, where the guard was named to the all-tournament team alongside teammates Ryan Yates and Edward Jenkins.
<b>THAT PETERSON</b> was able to swallow his ego and some minutes for the good of the team — despite being a senior who played sparingly up until this season — provides a glimpse into the winning culture that has developed along King Street these days.
"Some people say it's just a district title because we won the states last year, but for this group, this is a heck of an accomplishment," said coach Julian King. "To go undefeated during the regular season with a big bull's eye on your back, close games, and then to win the championship game this decisively, it's pretty good."
T.C. Williams (24-2 overall, 17-0 district) jumped all over Annandale, taking a 13-4 first-quarter lead it would never relinquish Friday night. The Atoms narrowly lost to the Titans earlier in the season, 67-66, and T.C. Williams wanted to prove that was a fluke. It was a welcome change of pace for the Titans, who went 7-1 in their fair share of games decided by six points or less this season.
Leading the way was the tournament's MVP, Jenkins (18 points), sophomore Tyrel Sitin (12 points), and Peterson (13 points, seven assists).
"Everybody thinks T.C. is down, they're just winning close games," warned Jenkins. "They don't understand how difficult it is to keep an undefeated streak in the district. We came out [against Annandale] and let it be known that we're the dominant team."
<b>ON MONDAY NIGHT</b>, the Titan boy's followed up their statement title game with a 67-41 blowout over McLean in the first round of the Northern Region basketball tournament. Junior Billy Rowland had a career-high 32 points and 11 rebounds, as T.C. Williams advanced to face Stuart Wednesday night in the quarterfinals, after the Gazette Packet's press time.
Should T.C. Williams win Wednesday night, it would play for a return visit to the state tournament this weekend in the regional semifinals, scheduled to take place beginning Saturday afternoon.
"We love the pressure, that's all we do," said Peterson. "But I didn't get much playing time last year, so I hope we go to the region and states and continue on what we did last season."