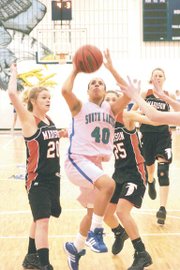 A remarkable breakthrough season for the South Lakes High girls basketball team came to an end Monday night when the Seahawks, despite a frantic, late-game comeback attempt, lost to South County, 53-48, in a first-round Northern Region playoff game. The postseason contest took place at South Lakes.
"Overall, I'm just extremely proud," said South Lakes coach Christy Winters Scott, whose team has won three, four, 11 and 19 games over her four years as head coach.
South County (15-7), with the win, advanced to Tuesday's quarterfinals where it was scheduled to play at Oakton. South Lakes, with the loss, saw its season end at 19-4. The team's only losses all season long came to Langley, twice; Madison, in the district semifinals, and South County.
This was new territory for South Lakes, which had not qualified for regionals in about 10 years. The Seahawks, the No. 2 seed from the Liberty District, started off slowly against the Stallions, the Patriot District's No. 3 seed. They simply could not find their shooting range in the first quarter and did not score their first basket until senior point guard Kelcyn Manurs connected on a 10-foot, pull-up jumper from the right baseline with two minutes, 40 seconds remaining in the opening quarter. South Lakes, following that basket, trailed 9-3 and ultimately fell behind 19-5 by the end of the quarter.
"Initially, I think their size bothered us some," Winters Scott said of a South County team that started two girls over 6-feet in height.
The Seahawks looked better in the second quarter. Manurs scored 11 of her team-high 17 points in the stanza, but South Lakes still found themselves down, 32-18, at halftime. And the home team could not get any closer in the third quarter, despite senior Kacey Liscomb's 10 points over the eight minutes following the half. The Seahawks, trailing 44-29 after three quarters, looked to be out of it.
<b>BUT THE TEAM</b>, behind a vocal and supportive home crowd, came storming back in the final quarter, thanks to a relentless, now-or-never defensive mind-set that appeared to rattle South County. Liscomb, who scored all 14 of her points in the second half, had a couple of defensive steals during the final quarter to lead a charge that saw the Seahawks slowly get themselves back into the contest. Her steal and ensuing layup got South Lakes within double figures at 47-39 with 4:04 left to play. A short time later, teammate Manurs converted a layup bucket following a steal to get her team closer at 49-44 with 2:27 showing.
Following two free throws by South County sophomore center Simone Antwi that put the Stallions ahead 51-44, Manurs scored the game's next four points — a 3-pointer from the top of the key, followed nearly a minute later by a free throw that got South Lakes within 51-48 with 47 seconds left.
South Lakes, with its fans in full enthusiasm, looked as if it would gain possession of the ball with a chance to tie the score on a 3-pointer after Antwi missed the front end of a one-on-one with 21 seconds left. But the 6-foot-1 post player got her own rebound following the miss. A few seconds later, following a South Lakes foul, South County's Alexis Brown made two free throws to all but ice the game at 53-48 with 15 seconds left to play. That ended up being the final score.
"I told the girls [following the game] I was extremely proud of them at the end of the game," said Winters Scott. "They had a tremendous push [in the final quarter]. That was Seahawks' basketball. The crowd was there and the energy was in the place."
<b>SOUTH COUNTY</b> won behind the play of frontcourt sensation Antwi, who finished the night with 26 points and 17 rebounds. Throughout the first half especially, the Stallions looked to get the ball into their best players' hands inside the paint. The results were several converted shots from close range.
"Clearly they had a size advantage all around," said Winters Scott. "That's a daunting task for us."
Antwi, one of the top players in the region, is extremely skilled along with having good size. She shoots the ball well, moves up and down the court with energy and hustle and blocks out in textbook fashion on the boards. Several of her baskets came off of rebound follow-ups.
"I've watched videos of her," said Winters Scott. "She's definitely phenomenal. We tried to take the lob pass away. We knew that was their bread and butter."
South Lakes appeared to be taken back by Antwi's prowess and presence in the first quarter. She scored consecutive close-range shots during the opening minutes of the game to help the guests build a 9-1 lead and she finished the first quarter with 12 points.
"We know our strength," said South County coach Chrissy Kelly, whose young team has just one senior member.
Kelly was most impressed with her team's defensive prowess. While South Lakes' three key players — senior tri-captains Manurs, Liscomb (14 points) and Jasmine Jones (nine points, six rebounds) accounted for 40 of South Lakes' 48 points, Kelly said her team did about as well as it could do against the talented Seahawks.
"We find our identity on defense," said Kelly. "South Lakes has a lot of experience in their guards. They have an outstanding trio of guards. Every single one of them is a threat with the ball in their hands."
Kelly anticipated a late game uprising by South Lakes because of its' key backcourt players.
"I knew they would turn it up," she said. "They are tough guards with a scoring mentality."
Following the game, Manurs, a four-year starter during her career, said South Lakes had never faced a better pivot player than Antwi.
"We definitely weren't used to playing against a player like that who's so muscular," said Manurs.
Manurs, along with her five other senior teammates, was playing in her first career region playoff game.
"I think we had an amazing season," she said.