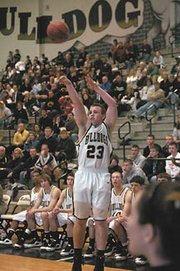 With 4.7 seconds left during his team's Concorde District final matchup with Oakton last Friday at Robinson Secondary School, all Westfield girls basketball coach Pat Deegan asked for was a chance.
The Bulldogs drew up an inbounds play from underneath their own basket. Junior point guard Shelby Romine accepted the pass at her foul line, crossed midcourt and flicked a pass to senior Alicia Richardson, stationed on the right wing.
Richardson's shot -- a clear look at the hoop -- bounced off the back of the rim, and Westfield suffered a 36-34 loss to Oakton, the team's third loss to the Cougars this season. But Westfield executed its game plan, the coach felt. Not much you can do if the shots don't fall.
"In girls basketball, you're really not gonna have a Grant Hill throwing it from one baseline to the other, so you have to catch the ball a little further up the court," Deegan said. "The pressure is getting the shot off. I was really pleased that we got a good look."
Deegan's team rebounded nicely with a 63-48 win over Yorktown in the opening round of the Northern Region tournament on Monday. The Bulldogs (18-8) played host to Annandale Wednesday night, which ended after this edition went to press.
<b>IN THE NIGHTCAP</b> last Friday, the Westfield boys basketball team stumbled out of the gate early and found itself down, 15-6, to Chantilly a little more than four minutes into its own Concorde District title game.
Little changed throughout the next 28 minutes, and Westfield went on to suffer a 67-46 loss to the Chargers. Jacob Ryder totaled a team-high 11 points and Chris Kearney added 10, but Westfield still lost to Chantilly for the third time this season.
As the No. 2 seed in the Northern Region boys tournament, Westfield hosted Wakefield Monday night and walked away with a 53-43 win. Ryder was again the team's leading scorer with 19 points, while also totaling five rebounds, three assists and three steals.
Kearney, a 6-foot-7 forward, had 13 points, six rebounds and six blocks. But for Ewell, in his fifth year on the Bulldogs' bench, Westfield's best chance comes when everybody is able to contribute.
"Jacob does a great job, and Chris does a great job," said Ewell, whose team hosted Lee Wednesday night. "But it's a team effort every night … there's always somebody else stepping up and getting it done."
<b>BY SCORING</b> a 59-48 win over Robinson in the Concord District quarterfinals, Centreville made it to the regional tournament for the first time since 2001.
Robinson cut a Centreville lead down to three late in the contest, but Centreville responded with its own push. And while it may not seem like much, the Wildcats have battled late-game demons like this all season and the performance was a welcomed change for first-year coach Drew Murphy.
"At the beginning of the year we would've folded," said Murphy, whose team closed its season with a 10-14 record.
Though the Wildcats dropped a 76-57 decision to Mount Vernon on Monday night, Murphy at one point noticed how much youth was around him; on the floor he had two freshmen, two sophomores and a junior.
Centreville will lose Kareem Worthey and Tommy Meador to graduation but returns first team All-District performer Warren Denny and first team defensive selection Chris Campbell.
"I feel like we've got a chance to be really good down the road," Murphy said. "Our seniors certainly helped us get to a certain point. They should be proud of that. And I'm looking forward to next year already."
<i>-- Sports Editor Mark Giannotto contributed to this article</i>