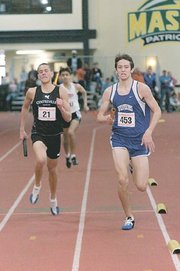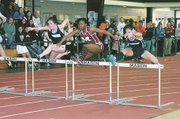 West Potomac junior Peter Stebbins cruised into the final bend of last weekend's 4x800-meter boy's relay race at the Northern Region Indoor Track and Field Championships certain the Wolverines were about to pick up their first win of the meet.
That's when he heard the PA announcer of the George Mason Field House excitedly yell, "Dan Grimm of Centreville on the back stretch." It prompted Stebbins to take a glance behind to see what all the commotion was about before kicking it into another gear when Grimm's rapidly approaching body suddenly came into view.
"I looked back, saw he was right there, and I just leaned in at the line," said Stebbins. "We came in seeded first by 10 seconds, but obviously it was closer than that."
"We'll talk about that big peek heading into [this weekend's state championship meet]," said relieved West Potomac coach Don Beeby. "He must have known he was coming. Everybody was standing up along the backstretch. … I was worried, but it ended up working out well."
The victory was the Wolverines' first of two nail-biting relay wins as the West Potomac boy's team finished in seventh place (39 points) amongst the 27-team field. The boy's also took the regional crown in the 4x400-meter relay by 0.24 seconds over Edison.
What made matters more tense was an error by Beeby when entering his team into the competition; senior Alex Triplett was forced into spur-of-the-moment duty running the second leg to set up Stebbins in the 4x800.
But a sizzling third leg by senior Joe Bradley put the Wolverines in position for the narrow and nerve-wracking finish. He said running about a half-mile in full gallop could sometimes be more complicated than expected.
"It's like you got a chain holding you back," Bradley said. "You're waiting to break that chain so you can go as fast as you can, but you don't want to go too early. On the beginning of my third lap I started to go around this guy, but I decided not to because I didn't want to waste all my energy for the sprint on the last lap. It's really all about keeping your cool and being able to think during the race."
Stebbins, Bradley, and Triplett were joined on the 4x800-meter relay by senior Ben Hammond. The winning 4x400-meter relay team consisted of seniors Christopher Montgomery, Julian Holden, Brandon Comfort, and Bradley. Comfort and Bradley also finished second and third, respectively, in the 500-meter dash.
On the girl's side, senior Meghan Connor came in second place in the pole vault with a jump of 9-feet-6.
<b>THE MOUNT VERNON BOY'S</b> team came in 11th place overall on the strength of its field events, where the Majors had several point scorers. Senior Jonathon McMillon took third place in the triple jump, leaping 42-feet-11. Senior Joshua Edmonds placed third in the shot put with a throw of 47-03 1/4 feet. Junior Clive Cameron was sixth in the 55-meter hurdles and 300-meter dash.
The 2008 Northern Region girl's shot put champion, Mount Vernon's Elizabeth Ball, was not allowed to compete after it was revealed she had moved out of the district recently, according to coach Chris Loline. Junior Candace Bailey filled in with a throw of more than 33-03 feet, good enough for fifth place.
A pleasant surprise for the Majors was sophomore Amira Hill, who beat her seed time by 0.27 seconds to take first place in the 55-meter hurdles. The Mount Vernon girl's team came in 14th place overall.
Both teams will have participants in this weekend's state championships in Hampton, Va.