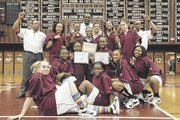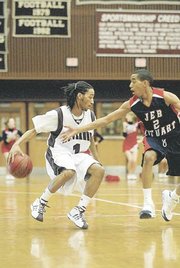 There's a reason the artists behind songs like the "Macarena" and "Who Let the Dogs Out?" won't be gracing the hallowed annals of musical history with the likes of the Rolling Stones or the Beatles any time soon.
The bottom line is one-hit wonders need not apply going up against veterans with albums full of memorable songs. The same is true on the basketball court.
Being a pleasant surprise only takes an impressive win or two. Becoming a champion takes an entire season. Just ask the Mount Vernon girl's basketball team, which proved to itself and the rest of the Northern Region there's a new force to reckoned with during this week's regional tournament.
The Majors snapped Edison's five-year reign over the National District last Friday night, defeating the Eagles, 49-31, before starting the Northern Region Tournament on the right note with a 59-52 victory over Chantilly Monday night.
Mount Vernon (23-2 overall, 13-1 district) entered the district tournament as the top seed courtesy of a common opponents' tiebreaker with Edison. The Majors and Eagles split their two regular-season match-ups with Mount Vernon ending Edison's run of 71 consecutive district victories back in December.
That win, coupled with an early triumph over perennial power T.C. Williams, put the Majors on the map. With the district title out of the way, Mount Vernon is now ready to leave an imprint.
"All these banners here are old and dingy," said star Tracy King pointing at the rafters of the Mount Vernon gym. "We wanted to put up a new banner and each year we lose to Edison; they've been winning it a lot of years in a row. This year, we were like it's our turn."
As has been the case much of the year, King led the Majors in scoring against Edison and Chantilly, tallying 20 and 16 points, respectively, in the two games. She was named first-team all-National District after averaging 19 points per game this season.
Aiding her cause has been junior point guard Jalinda Venable, who like coach Terry Henderson, is in her first season donning Mount Vernon colors having transferred over from Paul VI. Venable had 16 and 11 points, respectively, in the Majors' two wins.
Mount Vernon will take on West Springfield Wednesday night in the regional quarterfinals, after the Gazette's press time. The semifinals are scheduled to take place Friday night at Robinson High School.
"I feel that we still don't, as a team, get just dues," said Henderson. "Nobody believes in us yet but ourselves. … I really do feel if we didn't win this game [against Edison], the season would have been incomplete. The regular season, it's nice to win the regular season, but it doesn't mean anything if you can't back it up and win the district tournament."