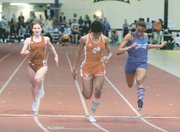 It didn't take long for T.C. Williams track and field star Tynita Butts to decide East Carolina was the place she wanted to take her talents next season. Ultimately, it only took a little cheesecake.
When Butts, a senior, made her official visit to the school last summer, head coach Curt Kraft knew just how to get on the talented runner and jumper's good side. He threw her and the other visiting recruits a party with their favorite desserts.
The acknowledgement of her sweet tooth only further convinced Butts that East Carolina was her choice amongst a litany of scholarship offers from the likes of Virginia, LSU, NC State, and Virginia Tech.
"When I visited, I pretty much decided right away this is the place for me," said Butts between bites of a purple-and-gold cake to commemorate signing her National Letter of Intent last Friday morning. "They made me feel as if I was already a part of the team."
<b>BUT NO DESSERT</b> could slow down Butts Saturday at the Northern Region Indoor Track and Field Championships as she was the main cog in the Lady Titans' third-place showing (49 points).
Two weeks after setting meet records in the long and high jumps at the Patriot District Championships, Butts won the regional title in both events, defeating the field with ease.
Butt's leap of 19-04 feet in the long jump was below her usual standards, but was still more than three feet further than her closest competitor. She also cleared 5-06 feet in the high jump, four inches higher than the second-place finisher.
The future college star closed her day blowing past the competition in the 55-meter dash (7.25 seconds) and placing eighth in the 300-meter dash. Also on the girl's side, senior Latona Jackson placed fourth in the shot put, while senior Erika Weidman took second in the 1000-meter run.
But it is Butts's versatility and ability in both track and field events that had Division-I coaches salivating over getting her commitment. So it should come as no shock that Butts is one of the favorites in both the long and high jumps at this weekend's state championship meet, which will be held in Hampton, Va.
<b>THE T.C. WILLIAMS BOYS</b>, on the other hand, were all about surprises in finishing eighth overall (35 points) last Saturday. Among them was the continuing development of senior Reward Asonye. Originally from Port-Harcourt, Nigeria, Asonye moved to Alexandria this summer after living in Toledo, Ohio since the age of 10.
Asonye competed in track there, but when coach Marshall Edwards first saw him this fall, his message was simple: "You have terrible form, but boy can you run," recalled Edmonds. "As a coach, it was so crazy because nobody really knew he was in school."
The smooth transfer culminated this weekend as Asonye ran the anchor leg of the Titans' first-place 4x200-meter relay, while also faring well in individual events, taking third place in the 300-meter dash (36.71 seconds) and fifth place in the 55-meter dash (6.64 seconds).
"I've had to meet new people and make new friends this year, so [running] has been the one stable thing in my life," said Asonye, who did not qualify for the state meet in Ohio last season, but will take part in Virginia's version this weekend.
Another welcome addition for Edmonds and the Titans has been senior shot putter Pierre Espinoza, who finished in fourth place with a throw of more than 47 feet.
A defensive lineman for the football team in the fall, Espinoza didn't come out for track and field until this season, a decision he's starting to regret after his strong showing last weekend.
"I really kind of surprised myself," said Espinoza, who won districts in the shot put. "I wish I would have started earlier now."