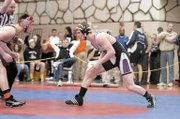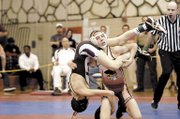 The Broad Run High girls basketball team defeated James Wood (Winchester), 54-37, in a first round Region II, Division 4 playoff game Tuesday night in Ashburn. Broad Run (15-10), the No. 4 seed, will now advance to Thursday night's semifinals against Charlottesville High. Game time is set for 7 p.m. in Charlottesville. No. 5 James Wood, with the loss to Broad Run, saw its season end at 10-14.
The Spartans had a balanced scoring attack in the win over James Wood. Maggie Andricosky, a junior post player, led Broad Run with 13 points. Also for Broad Run, senior guard Haley Johnson scored 11 points, senior frontcourt player Caitlin Hunter had 10 and senior center Chelsea Gantt netted eight. Junior guard Nina Dunay added six points.
Last week, Broad Run, coached by Mike O'Hara, advanced to the Dulles District semifinals before losing to No. 2-seed Loudoun County, 58-50. County went on to lose in the finals to top-seed Freedom, 61-57, last Saturday night at Freedom.
Broad Run, prior to its loss to County, had won a district quarterfinals game over No. 6 Potomac Falls, 56-42.
The three Dulles teams competing in Region II tournament play are Broad Run (Division 4), County (Division 4) and Freedom (Division 3).
The Park View boys, meanwhile, saw its season end with a 64-62 Region II, Division 4 playoff loss at Loudoun County on Tuesday night. The Patriots, the No. 5 seed, finished their first season under Mike Koscinski at 9-16. Brian McCarter, a freshman, scored 20 points to lead Park View, while Marcus Freeman, a senior shooting guard, scored 16. Also for the Patriots, senior center Kenny Smith netted 11 points, while junior forward Jordan Owens scored nine points and senior forward Donnie Royer six.
Last week, Park View reached the semifinals of the Dulles District tournament where it lost to Dominion, 50-44. The Patriots, prior to that game, had beaten defending Dulles champion Potomac Falls, 57-55, in a first-round game.
Potomac Falls also qualified for the Region II, Division 4 playoffs this week. There, the Panthers saw their season end with a 75-66 loss at Orange High on Tuesday night. Potomac Falls also saw its season end a year ago with a loss to Orange.
<b>THE DULLES DISTRICT SWIM</b> and Dive Championships were recently held at the Claude Moore Recreation Center. Broad Run High captured the boys team title, while Potomac Falls won the girls crown.
The Panther girls (378 points) edged out second-place finisher Briar Woods (375). Freedom, Heritage and Loudoun County finished third through fifth, respectively. Rounding out the eight-team district standings were Dominion, Broad Run and Park View.
Potomac Falls' 200 medley relay team of Bridget Werner, Taylor Ayers, Carla Harvey and Kirby Shook finished first. Also, the Panthers' 200 free relay team of Caylyn Tate, Harvey, Werner and Kerby was a winner.
Shook finished first in the 50 free event, Tate won in the 500 free and Werner was victorious in the 100 back.
Briar Woods' Elise Guessford won both the 200 free and 100 free events, while Alli Haufler won the 100 fly. The Falcons' 400 free relay team of Guessford, Diana Farris, Kate Fowler and Haufler finished first.
On the boys side, Broad Run won handily with 447 team points, finishing ahead of second-place Briar Woods (274), third-place Potomac Falls (249) and fourth-place Dominion (232.5). Rounding out the eight-team field were Heritage (227), Freedom (222), Loudoun County (208.5) and Park View (88).
Broad Run's 200 medley relay team of Mark Sarman, Andrew Tram, Cameron Lucas and Mike Poltash finished first. And the Spartans' 200 free relay team of Alan Horback, Brenden Lewis, Poltash and Jacob Leidy also was a winner. The Spartans had a third relay champion as well — in the 400-free — where Leidy, Lewis, Lucas and Sarman were the victorious foursome.
Cameron Lucas was first in both the 200 IM and 500 free races, while Sarman won both the 100 fly and 100 breast events. Brenden Lewis won the 50 free.
Potomac Falls' Devin Bowers won the 200 free and 100 free races. Cole Jamison won the 100 back.
<b>SEVERAL AREA WRESTLERS</b> had strong showings at last week's Virginia State AA Championships in Salem. The top finishers came from Briar Woods High, where Mike Fleming (160 division) and TJ Julia (112) both earned fourth-place finishes in their respective weight classes. Park View's Stephen Penna, meanwhile, was fifth at 112. Broad Run's Vince DiRenzo was a seventh-place finisher at 135, and Potomac Falls' Nick Rea finished eighth at 103.