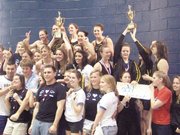 Despite its dynasty and the swagger that should come with membership on the Robinson boys swim and dive team, the Rams, by most accounts, had a down week last week in preparation for the Virginia AAA state championships.
Owners of the past six state titles, the Rams were still trying to forget a 1 1/2 -point loss to Oakton on Saturday, Feb. 14 for the Northern Region title, which meant that the boys team didn't win the region title for the first time since 2002.
First-year coach Tom Koucheravy, at George Mason University's Freedom Center in Manassas this past Saturday, admitted that the mood of his team was a bit down during the week.
"They were pretty bummed after regionals, walking around saying, 'Yeah, we'll do well but not great," Koucheravy said. "I told them, 'If we take care of business, it's ours.'"
And with one disqualification, everything changed. It was decided by meet officials that the second leg on Oakton's 4x200-yard medley relay team left early and the Cougars were disqualified from the race, handing Robinson the win.
That moment gave the Rams a slice of hope and, according to Koucheravy, changed the team's entire outlook on the state meet.
"When that shift happened, they completely changed," Koucheravy said. "I think Oakton getting disqualified on the relay gave them a huge boost of confidence, and they all swam out of their heads."
The Robinson boys team earned a 206-156.5 win over Madison to win its seventh consecutive state title, and the girls team was victorious as well, edging out Osbourn Park, 239.5-185, to win its first state trophy since 1994.
<b>AMANDA KENDALL</b> won her fourth consecutive state title in the 50-yard freestyle, finishing with a record time of 23.40 seconds, which also was an automatic All-American mark. She later finished third in the 100 butterfly (55.53).
Kendall also anchored the second-place 200 medley (Laura Finelli, Rachel Canty and Madison Rupp) and 200 freestyle (Tori Baker, Hannah Walden and Canty) relay teams, while Canty was third in the 200 individual medley and 100 breaststroke.
"This is amazing," said Kendall, who was the only member of either team to not take the celebratory leap into the pool, explaining that she had already changed and didn't have a spare, dry set of clothes. "I've been waiting three years for this, and it's amazing that we get to win it with the boys."
The boys team earned its title with only one individual first-place finisher and one state champion relay team. Freshman diver Cory Bowersox totaled 504.65 points to win his first state title, while the boys 200 medley relay team of Matt Osiecki, Ricky Munch, Kevin Root and Joe Zanellato took first in 1:36.24.
"I just did the best that I could do," Bowersox said. "I wanted to win it for the team. I didn't really care how I did. I just wanted to do it for the team."
Geoff Bobsin was second in the 50 freestyle (21.24) and third in the 100 free (46.53), while he also anchored a pair of second-place relay teams. The 200 freestyle relay team of Robbie Munch, McGuire and Ricky Munch posted a time of 1:26.80 and the 400 freestyle relay team (Zanellato, Robbie Munch and Osiecki) finished in 3:08.74.
Koucheravy, who wore a skin-tight, tie-dyed T-shirt and a pink whistle with "Hottie" written on the side — "I'll take their bluff," Koucheravy joked — pointed toward his team's performance during Friday's preliminary events as a more concrete reason for the sweep.
"They set themselves up that regardless of that relay, they would still win this title," Koucheravy said. "They should be extremely proud. They earned it regardless of that relay."