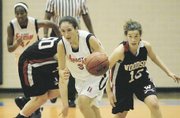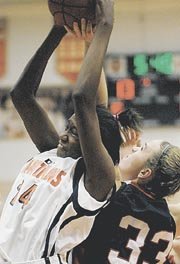 When the West Springfield girls basketball team took the court on Monday night for the first round of the Northern Region tournament, Sam Landers and Pui Sham, the team's two seniors, wanted to make a good impression in what could be the last home game of their high school careers.
It took all of three seconds to do so. After the Spartans won the opening tip, Landers broke free on the right wing and drilled an 18-footer, staking her team to a 2-0 lead at 7:57. Sham, one of the area's top long-range shooters, hit three 3-pointers to finish with nine points.
That quick start carried over into the rest of the game as the Spartans cruised to a 52-27 win over Langley, erasing any lingering memories of a 59-53 loss to T.C. Williams last Friday in the Patriot District finals — the Spartans' third loss to the Titans this season.
"It got us rolling," said Landers, who plans to attend Division-I Stony Brook University this fall. "When you make your first shot, that momentum carries and your team is right behind you. That picks it up for the whole team, and it's good to have that."
The win improved West Springfield's record this season to 22-4 and helped the Spartans advance to a region quarterfinal matchup Wednesday night against Mount Vernon.
<b>THOUGH LANDERS</b> finished with six points against Langley, her role has changed from last season and earlier this year, when she was a do-it-all scoring threat. The change came about primarily because of the emergence of two talented freshmen: Logan Battle and April Robinson.
Battle, a 5-foot-9 forward, has given the team an effective low-post presence and rebounder with a nose for the ball, as she totaled a pair of game-highs with 22 points and eight rebounds against the Saxons.
"It's nice having the inside and outside scoring," said coach Bill Gibson, whose teams have won dive region titles. "Starting out, we were strictly outside shooters, but we've added more inside and that's helped a whole lot because now you have to help inside."
Battle admitted to some rocky times at the beginning of the season but feels that the team has jelled rather nicely as of late. Throughout the Patriot District tournament, Battle was the team's leading scorer with a total of 35 points in three games.
"When we first started out, it was all confusion. Now it's just straight-forward," said Battle, who scored eight points in the first quarter against Langley. "We get confused sometimes, but we have coaches who've prepared us for this so we were ready."
<b>WHILE BATTLE</b> has solidified West Springfield's low-post options, Robinson has made life a bit easier for Landers on the perimeter. Last season, West Springfield was 18-9 and reached the Patriot District finals and the Northern Region quarterfinals, and the team's offense consistently flowed through Landers.
This season, she has split time between playing point guard and on the wing — the No. 2 guard spot. While it's not uncommon for Landers to still run the point against teams like T.C. Williams who apply heavy, constant pressure, Gibson has been working Robinson interchangeably with his senior leader. Sometimes, the switch is even made on the court by the two players.
"I like playing the 'two,'" Landers said. "It's a totally different look at the basket. And I still consider myself the leader of the team so I still have to run the show, but with her there too, it's a lot off your shoulders having another player there."
Against Langley, Robinson did a little bit of everything, totaling seven points, three rebounds three assists and a block. She also acknowledged that things weren't always this easy but working together has helped tremendously.
"It's been really fun for us," Robinson said. "We love this team, we love practicing and we love playing with them. We learn from our seniors, junior and sophomores and they learn from us. It's just been a great experience."