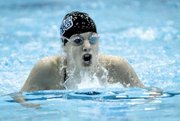 For Frances Dowd, a senior at Fairfax High School, Saturday, Feb. 21, 4 p.m. was the cutoff time. Dowd is one of an ever-shrinking number of athletes to participate in multiple sports these days and likely the only who does so during the same season.
Not only did she take part in the 1,000-meter run at the Northern Region track and field championships at George Mason University's Field House in Fairfax, but she also swam on the Rebels' 4x200-yard freestyle relay team, which was defending its state title record-setting time from a year ago nearly 30 minutes away on George Mason University's Prince William campus.
The 1,000 was scheduled for 3:05 p.m. and started at 3:18, meaning Dowd was able to run. Though she placed 11th with a time of 3 minutes, 11.53 seconds, her 200 freestyle relay team, which also consisted of Ellyn Baumgardner, Jean DeOrnellas and Theresa Harvey, took first with a time of 1:36.60.
"Going into this season, my dad told me that I'm making a choice to most likely be mediocre in both," Dowd said. "If I did one, I'd probably be really good at one. If I did the other, I'd probably be really good at the other. But I can't do them both at the same time and expect huge success. I knew that it would be a lot of work to balance this all out."
Dowd, who will attend Virginia Tech this fall on a track and field scholarship, had always been a member of the swim and dive team during the winter and shifted to outdoor track and field in the spring. But with her commitment to run as a Hokie, she felt it was important to show an increased focus and dedication to her sport throughout the winter season.
<b>EVERY TUESDAY</b> and Thursday, Dowd dons a swimsuit but on Monday and Wednesday she's a runner only. She also tries to sneak in runs on Saturday and Sunday, but, by her own admission, those don't always work out.
For the first three years of her high school career, Dowd was one of several prolific and full-time swimmers on the Fairfax girls team, which won the Virginia AAA state championship last spring — the school's first-ever state crown.
In last year's Virginia AAA state meet, Dowd medaled in the 200 individual medley, placing eighth, and she also swam on the second-place 400 freestyle relay team. She took ninth in the 100 breaststroke.
But this season, primarily due to her focus on both sports, Dowd only qualified for the state meet as a member of the 200 freestyle relay team.
"I think that's crazy how she does both," said Harvey, another member of the 200 freestyle relay team that's also two-sport athlete at Fairfax. Harvey, one of the Northern Region's top volleyball players, will take on both sports this fall at Division-I Iona College in New York.
"We supported her because we knew that was what she really wanted to do," Harvey said. "We all know that once it comes time to swim, she's ready."