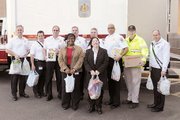 Send announcements to reston@connectionnewspapers.com or call 703-917-6437. Deadline is Thursday.
The next "Volunteers For Change" meeting will be held Sunday, March 8 at the Lake Anne Community Center, Room C, 1609 Washington Plaza, 6 p.m.-8 p.m. 'Volunteers for Change' is a local grassroots activist group promoting volunteer service projects focused on the Reston/Herndon community. The group will explore local implications of national policy issues related to the Economy, Environment, Homelessness, and other areas of concern to our participants. Send questions to VolunteersForChange09@gmail.com.
The Fairfax County Police Department is seeking residents to attend the upcoming Spring Citizens Police Academy, held Thursday evenings March 12-May 16, 6:30-10 p.m. The Citizens Police Academy is a 10-week program and classes are a combination of lecture and interactive activities. Topics include SWAT and special operations, gangs, 911 communications center, patrol, crime prevention, crime scene, identity theft and a tour of the Adult Detention Center. The program is offered free of charge. Applicants must live or work in Fairfax County, be 18 and provide their own transportation. E-mail CPA@fairfaxcounty.gov or call (703) 280-0713 for applications.
Mothers First-Herndon/Reston is a nonprofit support organization helping women transition from careers to at-home motherhood. Meetings are held the first and second Wednesdays of each month at 10 a.m., at the Herndon Fortnightly Library, 768 Center St., Herndon. Contact 703-827-5922 or www.mothersfirst.org.
Live acoustic music will be performed Mondays and Saturdays, 9:30 p.m.-1:30 a.m. at Uno Chicago Grill at Reston Town Center, 11900 Market St.
The Reston Museum, 1639 Washington Plaza, is open year round, Tuesdays-Sundays, 12-5 p.m. Call 703-709-7700 or visit www.restonmuseum.org
The Greater Reston Arts Center, 12001 Market St., Suite 100, Reston, is open Tuesday-Saturday, 11 a.m.–5 p.m. Visit www.restonarts.org.
Belly dance performances at La Kasbah Moroccan Restaurant, 11424 Washington Plaza, Reston, every Wednesday, 7:30 p.m., and every Friday and Saturday, 8 p.m. Call 703-707-0733 or visit www.lakasbahrestaurant.com.
Run, jog or walk with Body by Geoff, every Saturday, 8 a.m. Free. Meet at Body By Geoff, 1609 Washington Plaza, Reston. Call 703-464-5559.
Live music at Lake Anne: every Saturday, 6:30-9:30 p.m. at Jasmine Café, 1633 Washington Plaza, 703-471-9114; and every Thursday, Friday and Saturday, 9 p.m. at Tavern on the Lake, 1617 Washington Plaza, 703-471-0121.
Chinese conversation, 5-6 p.m., at the Reston Community Center Hunters Woods, 2310 Colts Neck Road, Reston, every Sunday. Call 571-225-7697.
Latin movement classes at Dance With Me Ballroom Dance Studio. No partner needed. Cuban motion, free style dancing and dance styling taught plus a fun exercise. Drop-in every Sunday, 2-3 p.m. Cost is $20 per person. The studio is located at the border of Reston and Herndon at 251 Sunset Park Drive. Visit www.dancewithme.net or call 703-444-3061.
Play chess on the Plaza every day. Sets are available for free check-out at Reston's Used Book Shop, 1623 Washington Plaza N.
Blood pressure and diabetes screenings are available every Saturday, in front of Body by Geoff, Lake Anne Village Center,1609-B Washington Plaza. Drive. Colleen Kivlahn conducts the free screenings.
Jazz on the Plaza, 1609 Washington Plaza, free every Sunday, from 5:30-8 p.m. featuring the Mykle Lyons Trio and friends. Visit www.lakeanneplaza.com.
Live Jazz every Friday, from 7-9 p.m., on the plaza, 1609 Washington Plaza. Different bands each week. Visit www.lakeanneplaza.com.
Free Saturday morning concerts every Saturday, 11 a.m.-1p.m., by the plaza fountain, 1609 Washington Plaza. For lineups, contact Reston's Used Book Shop at 703-435-9772.
Open mic nights every Tuesday, 8 p.m., at Tavern on the Lake, 1617 Washington Plaza and on the fourth Friday of every month at 7:30 p.m., at Reston's Used Book Shop, 1623 Washington Plaza.
Gather in the Cradle & Crayon Nursery, Reston Town Center, 11913 Freedom Drive, for a favorite children's book and some Mom social time every Wednesday, at 10:30 a.m. Call 703-437-0900 for details.
Broomball games will be held every Monday, 7-8:30 p.m., in the Ice Skating Pavilion at Reston Town Center. No skating skills necessary; helmet required. $15/player. Register at 703-709-6300 or skating@restontowncenter.com.