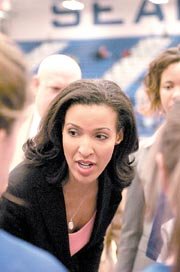 Following a remarkable, breakthrough regular season, the South Lakes High girls basketball team was set to begin postseason play this week as the top seed in the Liberty District tournament.
The Seahawks (20-2), who captured their first regular season district title since 1999, were scheduled to host No. 8 seed Stone Bridge in a first-round district tournament game on Tuesday of this week. A win there would advance the top seed Seahawks to a semifinals game on Thursday against the Madison (No. 4 seed) versus McLean (No. 5) winner. The semifinals game will take place at South Lakes at 5:45 p.m.
Should South Lakes win its first two games of the tournament, it would advance to Friday night's district championship game. There is a good chance South Lakes will meet No. 2 seed Langley in the finals. The Saxons were the only team to defeat the Seahawks this season, beating them in both regular season meetings.
Both the semifinals and finals of the tournament are set to take place at South Lakes.
"This is our home gym and it means a lot to us," said South Lakes fourth-year head coach Christy Winters Scott, thrilled to be hosting the tournament.
<b>THE SEAHAWKS</b> have become one of the Northern Region's top teams under Winters Scott. In her first season, South Lakes won just three games, followed by four victories the next season. Then last year, South Lakes finished a respectable .500 at 11-11, but failed to make the 16-team regionals as a result of a first-round loss at districts.
But it has all come together for South Lakes this season. The team has been led by tri-captains Kelcyn Manurs, Kacey Liscomb and Jasmine Jones.
"This is a determined group," said Winters Scott, of her team. "What I expect from them is what they expect from themselves — to compete in a poised manner. [In the playoffs] fans will see a determined group of girls who have worked hard. I'm extremely proud of the people they have all become."
<b>LAST WEEK</b>, the Liberty District coaches gathered and selected this season's all-district teams. Manurs, a senior guard, was named the District Player of the Year. A point guard with the ability to distribute the ball and score, Manurs emerged into a standout player this winter. Her unselfish play and willingness to get the ball to teammates might have been the most important aspect of her game.
"She trusted her teammates," said Winters Scott. "She'd have games where she'd have triple-doubles with eight or nine assists. She would find her teammates. She believed in them and [that mind-set] trickled down from there."
Liscomb, a senior guard/forward, made Second Team All-District and also was named to the District's All-Defensive Team. And Jones, a junior guard, made All-District Second Team as well.
Another Seahawk, senior frontcourt player Lachelle Wallace, earned All-District Honorable Mention recognition.
On top of all that, Winters Scott was selected by her peers as this season's District Coach of the Year.
The coach credited her three captains with outstanding seasons both on the floor and as team leaders.
"The captains had a tremendous impact on how we did," said Winters Scott.