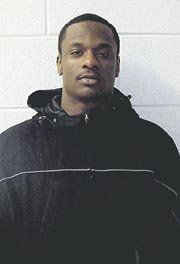 Fairfax boys basketball coach P.J. Kelly remembers the moments all too well. Sitting in the stands and watching his program's junior varsity team, he felt defenseless observing Kabel Moody.
During his freshman and a sophomore years, Moody's play could be described as anything from a hot headed to passive. Kelly, as the varsity coach, couldn't do much. He knew that Moody had the physical tools to be a star but was doing little with them.
"He had so much potential, but I think sometimes, as a sophomore, he wasn't really sure of his abilities," said the seventh-year coach. "He was one of those guys who passes the 'looks test,' but he wasn't very confident."
After earning honorable mention All-Concorde District honors as a junior and making the first team All-District squad this year as a senior, Moody has passed a few more tests. Entering Tuesday's game at Westfield, Moody was averaging a team-best 16.1 points and nine rebounds per game.
"I used to have a very bad attitude," said Moody, who has also shot 47.2 percent from the field this season. "When something would happen, I would just flip out. But my attitude has helped me grow up and become a better basketball player."
Kelly had the opposite assessment.
"It's almost like he wasn't aggressive enough," Kelly said. "He was just letting things happen without saying, 'OK, I could've made a difference there.' And now he's doing that more and more."
<b>THOUGH HIS TEAM</b> suffered a 67-56 loss to Westfield Tuesday night in the first round of the district tournament, Moody has finally fulfilled that potential that Kelly saw during junior varsity action.
Now a 6-foot-3, 200-pound senior, Moody was born and raised in Gaston, N.C. A lifelong fan of Michael Jordan and the North Carolina Tar Heels, the soft-spoken star laughs at the notion that he'd ever root for another college basketball team.
Moody's father, Steven Jones, used to take his son to community parks around Gaston, telling a young Kabel to be patient, stay focused, listen to coaches and be respectful. None of it clicked until Moody reached the eighth grade.
A year after contributing on Gaston Middle School's seventh-grade team primarily as a role player, Moody became a starter the next year and averaged around 12 points per game. His team finished in second place and Moody was named the team's co-MVP.
Following that turnaround season, a new job for his father brought Moody's family to Northern Virginia. At Fairfax, Moody started for two years on the football team but gave up the sport after his sophomore season.
Moody also plays for the Fairfax Stars AAU basketball team and hopes to continue his basketball career in college. While he admits that the recruiting process is in its earliest stages, he has received some heavy Division III and modest Division I interest.
"This is the way we wanted him to end his career," Kelly said. "He's really matured, and for him to put up these numbers as a senior says a lot about him and how far he's come."