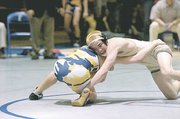 There's a fine, imaginary line that exists between having a team under your thumb and losing it entirely. There's another make-believe, disciplinary line coaches often flirt with, and it's located somewhere between tough-mindedness and insanity.
Westfield wrestling coach Chuck Hoskins has been able to straddle the latter while staying far, far away from the former. Though he runs as physically demanding a workout as common practices will allow, the Bulldog grapplers gravitate toward Hoskins.
"He's like my second dad," senior Brandon Berling joked.
"It's a fine line," Hoskins said of his team's demanding practice routine. "I tell them in practice that it's OK to be upset. It's OK to hate me under your breath. But don't be disrespectful and know that it's all about you guys and me wanting you to reach your goals."
"He knows how to push us to the max, and sometimes that's hard to handle because you don't know how to react," junior Nick Grinups said. "You're put in certain situations that most coaches wouldn't put you in, but it always benefits you and helps you wrestle to the best of your ability."
<b>THIS PAST</b> Saturday afternoon at Fairfax High School for the finals of the Northern Region wrestling tournament, Westfield's hard work paid off. The Bulldogs held off rival Robinson, 220.5-198, to win their second straight region title. And for the first time in the program's history, four wrestlers won individual region titles.
Jeremy Ryan, a 112-pound senior, earned a 5-0 win over W.T. Woodson's Bob Hauser.
"It's expected of me, which puts more pressure on me, but it feels great coming through it and rising up to the challenge," Ryan said of the win, his second in two weeks after capturing the Concorde District 112-pound title on Saturday, Feb. 7.
Berling, wrestling at 130 pounds, earned a 9-3 win over Robinson's Charlie Vannoy, Grinups (145) pinned Robinson's Reid Brown in 3 minutes, 40 seconds and 189-pound Austin Fallon scored a 4-2 win over Robinson's Marcus Hathaway.
"We wrestled four times this year, and this time I came out tough," said Fallon, who held off a final charge from Hathaway with less than 30 seconds to go. "I think that's how you win matches … you don't stop wrestling."
Next up for the Bulldogs will be this weekend's Virginia AAA state tournament, with the finals scheduled for 7 p.m. Saturday at Oscar Smith High School in Chesapeake.
<b>BERLING POINTS</b> to one precise moment where Westfield's grapplers know that Hoskins means business, and it occurs the moment he walks in the door.
"Every day he walks into the [wrestling] room and says, 'It's a great day for wrestling, baby,'" Berling explained, "… every single day since I was a freshman."
"You have to start out in a positive frame of mind," Hoskins countered.
In practice, Hoskins' favorite patience-tester involves announcing to everyone that the next drill will be the last; push yourself for two minutes and everyone can go home. Then, as Westfield's wrestlers stagger toward him, he announces that the match now requires overtime.
"There are points where I cannot stand him," Berling said. "I can't even look at him."
But as Hoskins said, it's OK to hate him. Just don't be disrespectful. And besides, Berling's, like many Westfield wrestlers' feelings, tend to dissipate quickly. As much was evident on Saturday as Westfield celebrated yet another region title, advancing to a more desirable version of overtime: the state tournament.
"It makes us mentally tough," Grinups said. "In a match, if we're up by two with 30 seconds left and we get taken down, it's overtime. "We know that we're in that condition and we know not to break or anything. Most people break, but because he pushes us, we know we can do it."