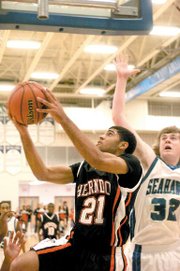 The Herndon High boys basketball team was set to begin postseason play earlier this week with a first round Concorde District tournament game against visiting Oakton.
A win in that contest, which came after press time, would advance the No. 3 seed Hornets to Thursday's semifinals against the winner of the Westfield (No. 2 seed) versus Fairfax (No. 7) game. Both the semifinals and Friday's finals are set to take place at Robinson High School.
Herndon (12-8 overall, 9-3 district) faced a must-win scenario in its earlier week playoff game against No. 6 Oakton, a team that has struggled throughout the season. The winner of that contest not only moved on to Thursday's semifinals, but also earned an automatic bid to next week's 16-team region tournament. The loser of the first-round district tournament affair, meanwhile, saw its season come to an abrupt end.
"If that's not enough to make you focus, then we're not as good a team as I thought," said Herndon coach Chris Whelan, of the must-win game against Oakton.
During the regular season, Herndon defeated Oakton in both of the two teams' meetings — 58-43 in a home game on Jan. 7, and 63-54 at Oakton on Feb. 3.
"The road win was close," said Whelan, earlier this week and prior to his team's meeting against the Cougars. "Oakton's a decent team. They are well-coached so we need to be prepared."
<b>HERNDON ENTERED</b> the postseason as a team that has been playing particularly well. The Hornets won six of their final seven games of the season, including last Friday night's 61-57 win at Westfield in the regular season finale. Herndon senior Isaac Johnson scored 24 points and sophomore guard Austin Hamilton netted 19 in the win.
Herndon's only loss in recent weeks came against the district's regular season champion Chantilly — a tough 60-58 home loss on Feb. 6.
"I think emotionally, we're fine, we're playing really well right now," said Whelan, of his team's confidence going into the postseason. "We're playing with confidence and unselfishness. We keep getting better."
Johnson, who averaged 18 points and seven rebounds a game during the season, was recently named First Team All-Concorde District by the coaches. Hamilton (15 points per game average, four assists), meanwhile, earned Second Team honors while junior Zack Ozycz (eight points, eight rebounds) made Honorable Mention. Ozycz and junior guard Randoll Anane both were named First Team All-Defense as well.
Whelan set up a tough out-of-district schedule this season, which included a game against nationally renowned DeMatha (Hyattesville, Md.), in order to make his team tougher and more seasoned by the time tournament time rolled around. And competing in the Concorde District is a tough enough challenge in itself.
"Nine-3 in the Concorde is fantastic," said Whelan. "I think the Concorde is one of the best districts in the state."
Herndon lost to Chantilly twice. Its other district loss came in a 71-63 home setback to Westfield on Jan. 21.
<b>HERNDON, ASSUMING</b> it got by Oakton on Tuesday, will play a semifinals game on Thursday night at 8 p.m., most likely against Westfield. The tournament title game is scheduled for Friday night, at 8 p.m., at Robinson High. The girls district title game will take place at 6 p.m.
The Herndon girls, the No. 6 seed in the district tournament, were scheduled to play at No. 3 Robinson in a first-round game on Tuesday of this week. The Hornets (9-12, 5-7) closed the regular season with a 62-54 loss to Westfield last Friday night. Junior guard Phyllis Martin scored 19 points in the loss, while junior Carlon Chambers had 14.