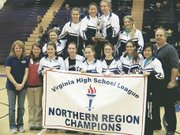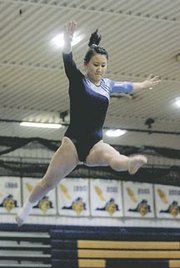 Injuries dashed any hope the Chantilly girls gymnastics team had of winning last year's Northern Region championship. This year, they required only a lecture.
Senior Elly Taura, who dislocated her elbow during warm-ups last year at the Virginia AAA state meet and had to be rushed to the hospital, has been battling persistent elbow pain since winning the Concorde District all-around title on Feb. 5.
Freshman Heather Guryansky was also lost to an elbow injury during the first meet of the season last year, and the Chargers never regained their full, team-wide health.
And after last practice Wednesday — one day before the Northern Region meet at Lake Braddock Secondary School — Taura felt a twinge of pain in her balky elbow and was instructed to apply ice that night by Chantilly's coach, Maureen Naquin.
Taura forgot.
"I'm kinda bad at those things," Taura joked. "I definitely heard it for that one."
<b>FORTUNATELY</b> it didn't carry over to Thursday's meet. By finishing first on vault (9.600), first on bars (9.425), first on floor (9.600) and tied for fourth on beam (9.050), Taura won the all-around competition and, in the process, helped Chantilly total 144.250 points and win its first region title since 2000.
"It feels great," Naquin said. "It's been a long time coming, so we're very, very excited."
The event's first rotation put the Chargers face-to-face with the event that nearly doomed them at the district meet: the balance beam. Because although Chantilly still led the rest of the Concorde last week, Naquin knew her team didn't perform up to its capabilities.
And when the same unusual, subpar performance happened at the region meet, Naquin, once again, didn't worry.
"I knew we were going to score well on floor because we had worked hard on that, so I wasn't really worried about it," Naquin said. "I just wanted them to not worry about it."
"Beam's a tough one," Taura added. "You have to get in the groove of things, so having to jump right into beam was kinda tough. But I think we managed this week a little better."
<b>IN ADDITION</b> to Taura, Chantilly was aided by the efforts of Lyndsey Saunders, who finished 12th in the all-around competition.
Heather Guryansky (vault), Saunders (bars, floor) and Katie Guryansky (floor) all posted top-eight finishes on individual events.
But with Guryansky healthy and Taura crossing her fingers — Naquin might prefer if she ices her elbow instead — Chantilly figures to enjoy the Virginia AAA state meet, which is scheduled for this weekend at West Potomac, a little more than it did last season.
"Last season it really did hurt us with two kids," Naquin said. "This season there have only been some aches and pains, and that we can deal with."