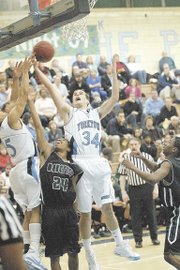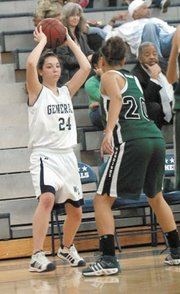 Ask coaches at the bottom of the standings and they'll say anything can happen — even a Cinderella-esque rise from the lower rung to the top of the basketball mountain — once the playoffs arrive.
Query the coaches with the best records and the answer is the same, anything can happen, including great regular-season teams falling victim to playoff pressure.
No matter how one slices it, though, the postseason is a time of excitement — both the good and bad kinds — and here in Arlington, it's no different.
The National District tournament for both boy's and girl's teams begins Tuesday night, and no coach knows how either will shake out.
On the boy's side, after top seed Mount Vernon, who went undefeated in district play, the rest of the field is a crapshoot of teams that traded wins and losses throughout the season.
So tightly packed were the National District boy's standings that three teams (Yorktown, Wakefield, and Stuart) tied for second place, with the deadlock broken by coin toss. For tournament purposes, the heads and tails determinant put Wakefield as the No. 2 seed, Stuart as the No. 3 seed, and Yorktown as the No. 4 seed.
That means rivals Yorktown and Washington-Lee face each other in a first-round matchup that, no matter the disparity in record, could go either way. The game takes place Tuesday night, after the Connection's deadline.
"This is a time where everybody is equal," said W-L coach Bobby Dotson. "It doesn't matter what you did all year."
On the girl's side, another Arlington rivalry will be rekindled with No. 3 seed Yorktown taking on No. 6 seed Wakefield with the winner likely to take on No. 2 seed Edison in the semifinals. The W-L girl's are the No. 4 seed and will take on Stuart in the last-ever basketball game to take place at the school's Rudolph Campbell Gym. The winner moves onto play No. 1 seed Mount Vernon.
The early-round action is perhaps more important than the semifinal and championship rounds that follow. To get into the Northern Region Tournament next week, teams must win their first-round district game.
"When it comes to the tournament, there's much more sense of urgency," said Yorktown girl's coach Kim Cordell. "It's a much different feel than the regular season. If you win, you move on. If you lose, you're done."
For both girl's and boy's basketball, tournament action continues Wednesday night with district semifinal action at the home gym of the higher seed. The girl's district title game will be played at 7 p.m. Friday night at Mount Vernon with the boy's title game immediately after.