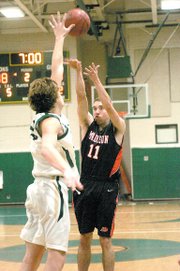 The Madison High boys basketball team has, for the most part, won behind its outstanding, suffocating team defense this season. And with the regular season having just been completed, the Warhawks are playing about as well in that facet of the game as it can.
That bodes well for Madison's chances at this week's Liberty District tournament. The Warhawks (13-7 overall, 9-5 district) were scheduled to play a first-round home game against Stone Bridge on Tuesday night, Feb. 17. Madison is the eight-team tournament's No. 4 seed, while Stone Bridge is No. 5. The two teams split during the regular season.
Wednesday's district semifinals and Friday night's finals will take place at South Lakes High School in Reston.
"We're playing our best basketball at tournament time," said Madison coach Chris Kuhblank, whose team closed out the regular season last week with home wins over Jefferson, 54-18, on Feb. 10, and Woodson, 50-36, on Feb. 13. "I feel pretty good."
Holding Jefferson to 18 points was remarkable, despite the fact that the Colonials finished last in the district standings.
"I've never seen that happen before," said Kuhblank, whose team led Jefferson 30-10 at halftime. "We just pressured their guards and didn't let them run their offense."
Nearly as impressive was holding first-place Woodson to 36 points last Friday night.
Madison led the Northern Region this season in fewest points allowed per game with 45.45. Langley, also a member of the Liberty, finished second at 46.5.
"We're most proud of our defense," said Kuhblank. "We're playing our game — playing defense and working hard. We're doing things the right way by dictating the tempo and running our offense until we get a good shot. I don't think [our guys] are ready to end the season yet."
<b>MADISON SENIOR GUARD</b> Omi Ogolo was named the Liberty District Defensive Player of the Year in voting by the district coaches last weekend. It marked the fourth straight year in which a Madison player has earned the honor. Prior winners of the award were former Madison players Drew Smerdinski (2008), Robert Schenck (2007) and Warren Edney (2006).
Two Madison players — Ogolo and senior post Will Clarkson — both earned First Team All-District honors. Ogolo averaged 12 points, three rebounds, three assists and three steals a game for Madison during the season. Meanwhile, Clarkson was his team's leading scorer with 18.5 points per game and also averaged six rebounds. Like Ogolo, he made the district's all-defensive team.
Madison junior front-court player Trevor Swinley (seven points, four boards per game) earned Honorable Mention All-District recognition.
Clarkson, the team's outstanding post player, shot an incredible 62 percent from the field over the season. Kuhblank said the sharpshooting Clarkson was selective in his shots. Many of his points came on medium-range jump shots away from the basket.
"That [shooting percentage] is unheard of because he shoots jump shots," said Kuhblank. "His shots are not all dunks and layups. We run an offense to get him good shots and he doesn't shoot ill-advised shots. He can shoot the ball."
Clarkson, in his team's win over Woodson, scored 19 points with 11 rebounds. He also blocked three shots and drew four charges. For the season, Clarkson has drawn 24 charges.
<b>MADISON'S FIRST-ROUND</b> district tournament game versus Stone Bridge, played Tuesday night after press time, was a must-win scenario for both teams. First-round district tournament winners, along with moving on to the semifinals, automatically advance to next week's 16-team region tournament. Last year, Madison made it all the way to the region semifinals before losing to Langley at the Patriot Center.
One thing Madison had going for it heading into the first-round game against Stone Bridge was that the Warhawks have been perfect at home this season with a 10-0 record. Kuhblank and his players are certainly a confident bunch on their home floor. That has been the case during the coach's six years at the helm of the program as Madison has gone 60-6 at home during that stretch.
"Our crowd gets involved," said Kuhblank. "We will fill the gym."