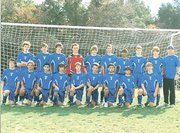 <b>Triple OT for Heavyweights</b>
A triple-overtime wrestling match would have even a 119-pounder bent at the waist and clutching his knees. So when two heavyweights require three additional one-minute periods?
"I'm tired," said Chantilly's Chris Cabe, who won this past Saturday's heavyweight bout with Jefferson's Matt Becker at Fairfax High School, securing his first-ever Northern Region title.
"He improved," Cabe continued. "He got a lot better. I had a plan, but he wrestled smart."
Cabe's win followed last week's much-simpler 3-0 defeat of Fairfax's Josh Patterson at the Concorde District championships.
Cabe will now advance, along with teammates Lloyd Tenaglia (third, 125) and Jack Carlson (third, 145), as well as Centreville's Emilio Garcia (second, 171), to this weekend's Virginia AAA state tournament at Oscar Smith High School in Chesapeake.
<b>Benecki Wins Tight One</b>
At the 2008 Northern Region swim and dive championships, Chantilly senior Matt Benecki enjoyed more than a six-second advantage over his competition — Oakton junior Bradley Phillips — in the 500-yard freestyle event.
Benecki would go on to set a region record last winter, touching the wall with a time of 4 minutes, 30.43 seconds, which was 23 seconds faster than the state-qualifying time and an automatic All-American mark by more than six seconds.
At this season's region meet, Benecki didn't enjoy quite the same comforts. But he did swim fast enough to hold off Phillips. The Minnesota-bound Benecki finished this year's 500 in 4:27.37, breaking his old record, but Phillips wasn't far behind at 4:27.48.
"It was a lot harder than last year because [Phillips] really improved over the summer," said Benecki, who finished third in the 200 freestyle. "It was so much more intense than last year's race."
<b>IN OTHER MEET ACTION,</b> the Chantilly girls team was fifth with 167 points, led by Elizabeth Hall, who finished second in both the 100 fly and 100 backstroke. She also anchored the second-place 400 freestyle relay team (Maggie Shaw, Alexis Regan and Becca Yost and Hall).
The Chantilly boys team was also helped by a fourth-place finish by Mitch Phillips in the 200 freestyle, and along with Greg Borowski and Brian Rothschild, Benecki and Phillips helped the 200 and 400 freestyle relay teams to a pair of fourth-place finishes.
Tthe Centreville girls team placed ninth (106 points) and the boys team was 21st (30). Susie Lesniewski led the Wildcats, finishing third in the 50-yard freestyle with a time of 25.10 seconds, and she also anchored the 200 medley relay team (Sana Alloo, Natalie Leake, Taylor Avery), which was third at 1:49.16. Leake grabbed fourth in the 100 breaststroke (1:05.95).
Westfield's girls team took 14th place and the boys grabbed 16th. Rebecca Rice led the girls team with a fifth-place finish in the 200 freestyle, touching the wall with a time of 1:57.73. On the boys side, Kurtis Ratcliff took third in the 100 butterfly (51.15) and C.J. Fiala finished fifth in the 100 breaststroke (1:00.04).
<b>Football Summer Camp</b>
The NOVA "NFL" Youth Flag Football League will hold its 12th annual Flag Football Summer Camp in Ashburn the week of June 22-26, and there will be a second week Aug. 3-7. Both camps run from 9 a.m. until noon for children ages 6 to 12. The camps, aimed at teaching football in a fun environment, will feature experienced adult head coaches as instructors, local high school and college football players as camp counselors and visits by current and former Washington Redskins and other guest speakers. The camps will conclude with end-of-the-week flag football games and a speed, power and agility training session performed by certified fitness instructors from Dynamic Sports Performance. There will be visits by current and former Washington Redskins players and other guest speakers. To register, visit www.novaflag.com.
<b>Senior Softball Seeks Players</b>
Northern Virginia Senior Softball (NVSS) seeks men ages 50 years and older and women over 40 (with an average age 65) for fun, fitness and fellowship, playing two seven-inning, slow-pitch softball games on Fairfax County fields. Games are on Tuesday and Thursday mornings from April 15 to Aug. 7. NVSS will have 25 teams organized into three conferences according to players' skill level, which is determined by an assessment not a tryout. Eleven fielders are on defense and everyone present bats. An indoor conditioning program for members runs from Feb. 17 through April 9. After Labor Day, September through October fall season begins. For more information, call Dave at 703-524-5576 or Ted at 703-913-0028.