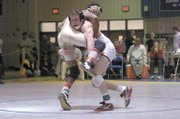 <b>Borja Overcomes Sickness</b>
Initially asked to talk about his 6-1 win over Oakton's Chris Butters on Feb. 14, Hayfield senior Ray Borja declined the offer. The 125-pound wrestler was sick and he needed to see a trainer.
Borja grabbed a bag of ice, placed it on the back of his neck and hoped that his fever would stay down. On Tuesday, Borja topped out at 102 degrees, but none of it mattered after he won his second consecutive Northern Region title.
"It feels good to repeat last year's championship, but I guess my sickness prevented me from doing my best," Borja said. "But it did help me focus. My coach [Roy Hill] says when you're sick you're more focused because you know what you need to do to win."
Borja, along with teammates Shane Schumack (second, 160); J.P. Ithier (third, 130); Lewin Romero (third, 135); and Ronnie Ours (fourth, 140); will advance to this weekend's Virginia AAA state finals at Oscar Smith High School in Chesapeake.
"I'm definitely looking forward to states and being healthy," Borja said. "I can't wait."
<b>Springfield Swim Shorts</b>
The Lake Braddock girls swim and dive team earned a fourth-place finish at this past weekend's Northern Region championships. Behind the fifth-place 200-yard medley relay team (Christina McGarry, Alessandra Troncoso, Jordan Parry and Alyssa McGarry), the Bruins totaled 190 points. On the boys side, Lake Braddock took 12th with 88.5 points, led by its fifth-place 200 medley relay team (David Maquera, Tyler Ogren, Nick Laffose and Troy Chewing) as well. … The Lee boys, keyed by Steven Gifford's seventh-place finish in the 100 freestyle (48.09) were 15th. … West Springfield's girls earned 10th place and the boys team took 18th. Kathryn Sieracki was the girls team's top finisher, taking fifth in the 200 IM with a time of 2:13.78. John Trope was fifth in the 1-meter dive for the boys with a score of 421.05. … Edison's David Kiss earned second in the 100 fly (50.18) for the ninth-place Eagle boys.
<b>Bruins Take Advantage</b>
Ask any coach after any sporting event and they won't deny it: home-field or home-court advantage is exactly that, an advantage. But in gymnastics, that advantage has an added level of importance because competitors don't have to adjust to a new set of equipment.
"You're comfortable because you know what to expect," said Lake Braddock coach Ellen Hagan-Bowerman after this past weekend's Northern Region championships, which took place at Lake Braddock. "It's what they practice on every day."
Lake Braddock took advantage of its familiar surroundings with a second-place finish, trailing Chantilly by a score of 144.250-138.775.
The Bruins were led by senior Emily Parillo, who finished second on vault, tied for sixth on bars, first on the balance beam and second on floor. Parillo trailed only Chantilly's Elly Taura for all-around honors, 37.675-37.525.
"I just wanted to hit all of my events," said Parillo, who, along with her team, will advance to this weekend's Virginia AAA state championships at West Potomac. "The crowd was really good and they helped me a lot."
Edison's Hannah Tecson finished eighth in the all-around portion, tying for 24th on vault (8.750), sixth on bars (8.925) and fourth on the balance beam (9.050). She also took 17th on floor (8.950). The Eagles earned 129.525 team points, good enough for sixth place.