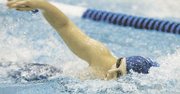 Winner of the past six Virginia AAA state titles, the Robinson boys swim and dive team has garnered its share of attention. On Saturday night, Feb. 14, at Oak Marr RECenter, members of the Robinson girls team turned the spotlight on themselves.
Despite having won district titles in 10 of the past 12 years, as well as splitting last year's Northern Region crown with Fairfax, the Robinson girls are often overlooked because of the boys team's perennial success.
But when the boys finished second to Oakton (232-230.5) and the girls cruised to a 301-222 win over Fairfax to claim the 2009 region crown, it was the girls team that celebrated its region championship by swaying to Queen's "We Are The Champions."
"We've been in their shadow for a couple years, so it feels good to come out on top this year," said senior Amanda Kendall, who scored a meet-best 40 points for her team. "But we are really upset [the boys team] got second place."
"Over the years, I feel like they have gotten all the attention because they've won states," said junior Laura Finelli. "But I feel like this year we have a lot of the attention, which is pretty exciting."
Both teams will advance to this weekend's Virginia AAA state finals, which will take place at George Mason University's Freedom Center, with the diving finals scheduled for Saturday, at 9 a.m. and the swimming finals the same day at 4:30 p.m.
Kendall was the Rams' top performer, taking first-place honors in both the 50-yard (23.51 seconds) and 100 freestyle (50.98) events. Both times set Northern Region records.
"She's just an amazing racer," said first-year coach Tom Koucheravy. "You ask her to do something, and she doesn't back down from the challenge. She's just amazing in whatever event you put her in."
In addition to Kendall, the Robinson girls were bolstered by the performance of its 400 freestyle relay team (Madison Rupp, Tori Baker, Finelli and Hannah Walden), which touched the wall in 3:37.27 to take first.
Rachel Canty (200 individual medley, 2:09.46), Rupp (500 freestyle, 5:08.60) and Finelli (100 backstroke, 1:00.14) posted third-place finishes, while the girls team also had the second-place 200 medley and third-place 200 freestyle relay teams.
"All these girls just did a great job, stepping up and going above and beyond," Koucheravy said.
When asked about the boys team's performance, Koucheravy had no complaints. Oakton, which scored a dual-meet win over Robinson on Jan. 9, simply out-swam his team, despite several outstanding performances from Robinson swimmers.
The boys 400 freestyle relay team took second, while the 200 freestyle and 200 medley relay teams each took third.
Furthermore, East Carolina-bound senior Geoff Bobsin finished second in the 100 freestyle (46.49) and third in the 50 freestyle (21.45). Cory Bowersox took second on the 1-meter dive (487.10).
"The boys team did great. There's no arguing that," Koucheravy said. "I told every boy that no one can falter, no one can back down. Everybody has to go above and beyond what they can do, and just about everybody did."
But even on a night when the Robinson boys led Oakton by 4 1/2 points entering the final relay, it was the Robinson girls team that won its first solo region title since 2005 and 11th overall.
"It was really exciting, especially to win by that much," Finelli said, and especially because the boys didn't win and we won."