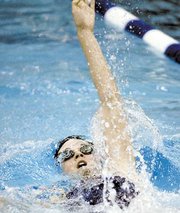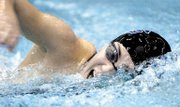 Meredith Harris, the Fairfax swim and dive team's second-year head coach, laughed as she said it, but she still couldn't help herself from delivering the line.
"They're our babies, and they're leaving the nest," said Harris, referencing the Rebels' top five female swimmers: Ellyn Baumgardner, Frances Dowd, Jean DeOrnellas, Theresa Harvey and Lauren Gehrke.
The first four will graduate this spring and Gehrke's family is moving to Asia. On Saturday night, Feb. 14 at Oak Marr RECenter for the Northern Region swim and dive finals, the "babies" gave their "mom" something to smile about, finishing second to Robinson, 301-222.
The 200-yard medley relay team (Gehrke, Baumgardner, DeOrnellas and Harvey) set a region record in 1 minute, 46.80 seconds, while the 200 freestyle relay team (Baumgardner, Dowd, DeOrnellas and Harvey) set another region record with a time of 1:36.61. Baumgardner took first place in the 100 breaststroke with a mark of 1:02.21.
"It's our last year together at regionals, and we really wanted to get the record and get first and we did," Baumgardner said of the 200 freestyle squad. "We spent all week getting pumped up."
On the boys side, Fairfax finished fourth with 186 points, led by Joey Kelly's team-best 27. The 200 freestyle relay team, which consisted of Ryan Larson, Travis Lauri, Kelly and Alex Price, finished second in 1:27.19.
"Our boys getting fourth this year was unbelievable," Harris said. "They had the drive. They had the 'want to' this year, and they proved it."
<b>IN OTHER MEET ACTION,</b> W.T. Woodson's Kevin Vest finished second in the 50 freestyle, posting a time of 21.38. W.T. Woodson's boys team was sixth with 161 points. The girls team, led by Jill King's 18 points, totaled 99 points to finish 11th. The Cavaliers' 200 freestyle relay team (Betty Fan, Kristen Lewan, Caitlin Rider and King) took fourth.