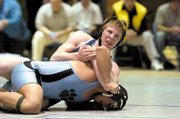 <b>Perryman a Coach, Too</b>
During the final round of the Northern Region wrestling tournament this past Saturday at Fairfax High School, Robinson junior Roman Perryman became a part-time coach.
Following his 4-0 win over Westfield's Kyle Arnold, the 135-pound Perryman knelt near the corner of the mat and shouted instructions to his friend and former training partner, 140-pound Ross Renzi of Lake Braddock.
Renzi eventually suffered a 3-2 loss to Jefferson's Mike Howard but not before Perryman did his best impersonation of Bryan Hazard, the Rams' actual head coach.
"I always like cheering on my friends," said Perryman, whose team finished second to Westfield, 220.5-198. "I feel like I can help them … if they can hear me."
Robinson's other first-place finisher Saturday was 103-pound Jake Smith, who kick-started the final set of matches with a 1-0 victory of Anthony Kotoriy of Langley. Next up for Robinson is the Virginia AAA state meet at Oscar Smith High School in Chesapeake.
"I thought I wrestled well, almost to the best of my ability," said Smith, who has now won district and regional titles as a freshman. "It's just another stepping stone to where I really want to be, winning states next week."
<b>Yost a Winner, Wants More</b>
Fairfax senior Jordan Yost was unhappy with his performance in the final round of this past weekend's Northern Region wrestling championships. It's not as if Yost wrestled poorly, it's just that the outcome wasn't what he was looking for.
And he won, too.
Yost cruised to a 7-0 victory over Centreville's Emilio Garcia, but, in his own gymnasium, wanted to pin his opponent. Instead, the 171-pound Yost had to settle for accomplishing his pre-season goal.
"Obviously, this is what I've been aiming for the whole season, and it didn't happen quite the way I wanted it," Yost said. "I really wanted to pin him in the finals."
Yost will advance to this weekend's Virginia AAA state finals at Oscar Smith High School in Chesapeake, hoping to accomplish yet another pre-season goal.
"Before the season, we set our goals and my goals were to win regionals and finish top five at states," said Yost, whose team finished fifth with 89 points. "It looks like that could probably happen."
<b>Robinson Gymnasts Fourth in Region</b>
Thanks to a third-place effort from freshman Amanda Famiglietti, the Robinson girls gymnastics team had its most satisfying performance of the season at last Thursday's Northern Region championships.
Famiglietti, who finished second to Chantilly's Elly Taura in the all-around competition at the Concorde District meet on Feb. 5, took fourth on vault (9.450), third on bars (9.250), second on the balance beam (9.300) and 20th on floor (8.575).
Her total of 36.575 points trailed only Emily Parillo of Lake Braddock (37.525) and Taura (37.675). Famiglietti will advance to this weekend's Virginia AAA state finals at West Potomac.
As a team, Robinson finished fourth with a total score of 136.000, trailing Stone Bridge, Lake Braddock and first-place Chantilly, which won its first region title since 2000 with 144.250 points.
"We had a great night," Smiley said. "It was the best meet of our season. We just came out there trying to do our best, and we hit all of our routines."
<b>Three More Rams Commit</b>
Three Robinson football players signed letters of intent last week to attend Division I-AA schools. Wynton Fox, a running back, committed to Robert Morris University on Friday, Feb. 6, and Ryan Holder, a defensive end, committed to Georgetown while on a visit the weekend of Feb. 11-13. Offensive guard Kevin Bell committed to the University of Dayton Monday morning, Feb. 9. Fox ran for 913 yards and nine touchdowns this past season, while Holder posted 62 tackles and three sacks. Bell, a 6-foot-2, 230-pounder possesses both size and speed.