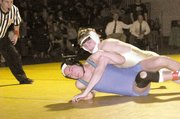 For the South Lakes High wrestling team, this winter has been a breakthrough season in which the Seahawks have put together a stellar 10-5 record. Following years of struggling to effectively be competitive within the Northern Region and district standings, the Reston public-school program has turned things around under coach Bruce Hall the past couple of seasons.
Therefore, South Lakes had high hopes of being among the elite teams at last weekend's Liberty District Championships, which took place at Langley High School. The Seahawks, who have just one senior on their current roster, finished sixth in the team standings. The placing might not have been as good as Hall and his team members would have hoped.
Nevertheless, South Lakes, with a few breaks going its way, could have finished better. South Lakes finished with 91 team points, finishing just behind fifth-place Stone Bridge (93). Langley finished first in the eight-team field.
South Lakes, regardless of its final place in the tournament standings, had several positive showings at districts as one champion — Ryan Forest (125-weight class) — was crowned while two others — Austin Rosmarin (103) and Andrew Tzikas (152) — reached the finals. In all, six Seahawks earned place finishes — top four — to qualify for this week's region championships at Fairfax High School.
"I couldn't be happier with our program," said Hall, pleased with the way his squad has rounded into form this season.
<b>FOREST, SOUTH LAKES'</b> district champion, is just a freshman but has competed in the sport for years. Watching him on the mat in his 8-4 finals win over 125-class opponent Matt Wilson (Langley), he showed the poise of a much more seasoned high school wrestler.
"We knew Ryan was coming [into the program]," Hall said. "I coached him as a youth. He was always extremely gifted as an athlete. He plays baseball and football, too, and has always been tough on the mat. He has always been mature. His demeanor on the mat is that nothing bothers him."
Forest (27-6) opened the scoring in the finals match with a two-point takedown in the final seconds of the first period. He later added to the lead with a two-point reversal 25 seconds into the second period to go ahead 4-0. By that point, he was in control of the match. Wilson (28-15), who had finished second in the district the year before, got into the scoring column in the opening seconds of the third period to make it 4-2. Later, with 1 minute, 18 seconds remaining, Wilson pulled within 5-4 on reverse points. But Forest got an escape point and, seconds later, got a two-point standing takedown with 55 seconds left to pretty much seal the win.
Forest, upon being declared the winner, did not hide his emotions, throwing his right arm into the air in joyful exuberance.
"He was a little excited and happy," Hall said with a laugh. "That's as excited as he gets. As a coach it makes me feel real good to have Ryan."
Forest said his takedown at the end of the first period set the tone of the match.
"After the first takedown, that started up my confidence and it kept on building," he said.
Forest reached the finals with wins over Jefferson's Matt Lamb and Stone Bridge's Eric Vogel. He was pleased with the way he wrestled at districts.
"I didn't make many mistakes," he said of the three wins. "I had a bit of a sore throat, but [overall] I felt good going out there"
<b>IN THE 152 FINALS</b>, South Lakes' Tzikas (21-6), who finished third at districts a year ago, went up against one of the top wrestlers in the state in Langley senior David Helmer (44-1), a three-time region champion and a state champion last year.
Tzikas, who lost by decision to Helmer, 11-4, during the regular season, was pinned in the first round of Saturday's finals. Helmer is athletic, strong and has outstanding balance on the mat.
"He's not only one of the best wrestlers in the region, but may be the top athlete in the region," Hall said. "He's phenomenal. He beats the heck out of anybody. There are not too many wrestlers in the region who could give him a good [match]."
Of Tzikas, Helmer said, "He's a good wrestler and tries hard. He hustles hard throughout the match."
Tzikas reached the finals with wins over Stone Bridge's Ryan Purcell and Marshall's Misha Smarzik. In the finals against Helmer, he trailed 6-2 before Helmer got him onto his back on the edge of the mat and got the pin.
A year ago after finishing third at districts, Tzikas continued to wrestle well at regionals and finished one win away from qualifying for states. This season, he has also been outstanding.
"Andrew is my best conditioned wrestler, by far," Hall said.
Also making Saturday's finals for South Lakes was Rosmarin at 103. A freshman and first-year wrestler, Rosmarin (16-12) met two-time district champ and defending region champion Anthony Kotoriy (38-4) of Langley. Rosmarin competed hard, but trailed 8-2 after one period before getting pinned with 1:16 left in the second period.
Rosmarin, who is nicknamed "The Freak" because of his gifts on the mat, defeated both Daniel Feldman of Madison and Stuart Maier of Jefferson to reach the finals.
"I knew he'd beat those kids because he's beaten them in the regular season," said Hall, of his ninth-grader. "We call him "The Freak" because he has great stuff. He's a straight-A student."
South Lakes' other place finishers at districts were Ken Robair (third at 215), Alex Stanley (third at 189) and Justin Magerer (fourth at 140). Robair defeated Langley's JD Drasbek, 3-1, in the match for third place, while Stanley handled McLean's Will Stanton, 6-0, to garner third at 189.